To enable 'Developer Access' to Celigo and to access Amazon Marketplace Web Services (MWS), you need to go to the following specific URLs depending on your Amazon Domain and log in with your registered credentials to access your Amazon Seller Central account:
Use the following credentials to log into your Amazon Seller Central Account and obtain information such as Seller Id, Marketplace Id, & MWS Auth Token (these account identifiers are needed to set up Amazon connections in the Integration App).
| | | |
| --- | --- | --- |
| Region | Name | Developer Account Number |
| North America | Celigo Inc. | 5368-8694-0642 |
| Europe | Celigo Inc EU | 2170-0602-1477 |
| Far East | Celigo (AU) | 9357-2950-0923 |
Log into your Seller Central Site based on your account.

Once you are logged in, the Amazon Marketplace Web Service (Amazon MWS) page is displayed. In this section, select the radio button for the option 'I want to give a Developer access to my Amazon Seller Central Account with MWS'.
Provide Developer Name and Developer Account Number (given to you by Celigo at the time of subscription) in the Amazon MWS section and click Next.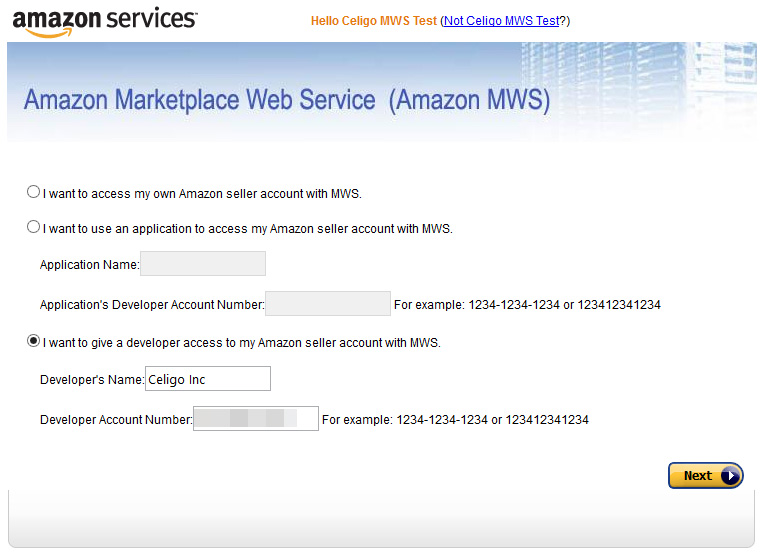 The Account Identifiers – Seller ID, Marketplace ID, MWS Auth Token are generated and displayed. The above information is needed to configure the integration in NetSuite. In this screenshot, the records are blurred to maintain confidentiality of the information.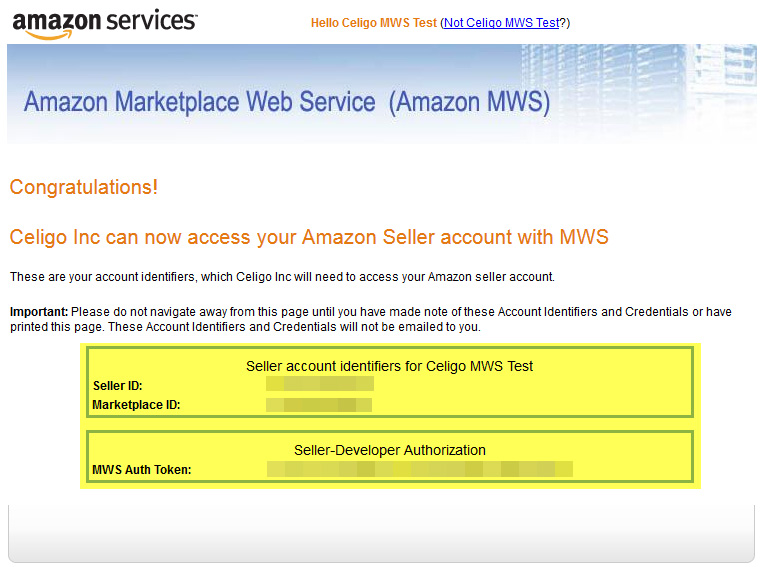 Important Amazon Marketplace Web Service (Amazon MWS) Developer Access Confirmation feature:
With Developer Access Confirmation, sellers who have granted a developer permission to their account will be asked to confirm their access every 12 months. If the developer access is not confirmed after 12 months, their access to the seller's account will be suspended.
Sellers can visit the MWS Developer Permissions (US link) page in Seller Central to confirm a developer's access. They can also use the MWS Developer Permissions page to restore a suspended developer account.
For more information, visit the Amazon MWS Developer Permissions Manager help on Seller Central.
Important: Amazon provides a time bound permission manager. If you enable this feature on Amazon, you have to make sure that you re-share access to your account with Celigo every 12 months.
Impact on the Amazon - NetSuite Integration App
Amazon Integration App needs access to the MWS API of Seller's Amazon account. Celigo provides a registration option at the start of the integration, where we request the Celigo Inc developer account to have access to the seller's API (previously, there was no expiry date for this option). This access needs to be confirmed every 12 months if you have enabled the above feature.
Important: If the access is revoked (intentionally/unintentionally), the integration may break until the access is confirmed again. If you have enabled this feature, you need to review the access every 12 months and also make sure that you never revoke it unless you want to discontinue using the Integration App.
Note: Amazon recently provided an option to connect to third-party developers right from within their Developer Permissions section. You can now use the User Permissions page in Seller Central to register for Amazon Marketplace Web Service (Amazon MWS). Sellers can also authorize developers and web applications to access their Amazon seller accounts from this page.
The "Sign up for MWS" button on the Amazon MWS developer portal has been replaced with a link to the User Permissions page in Seller Central.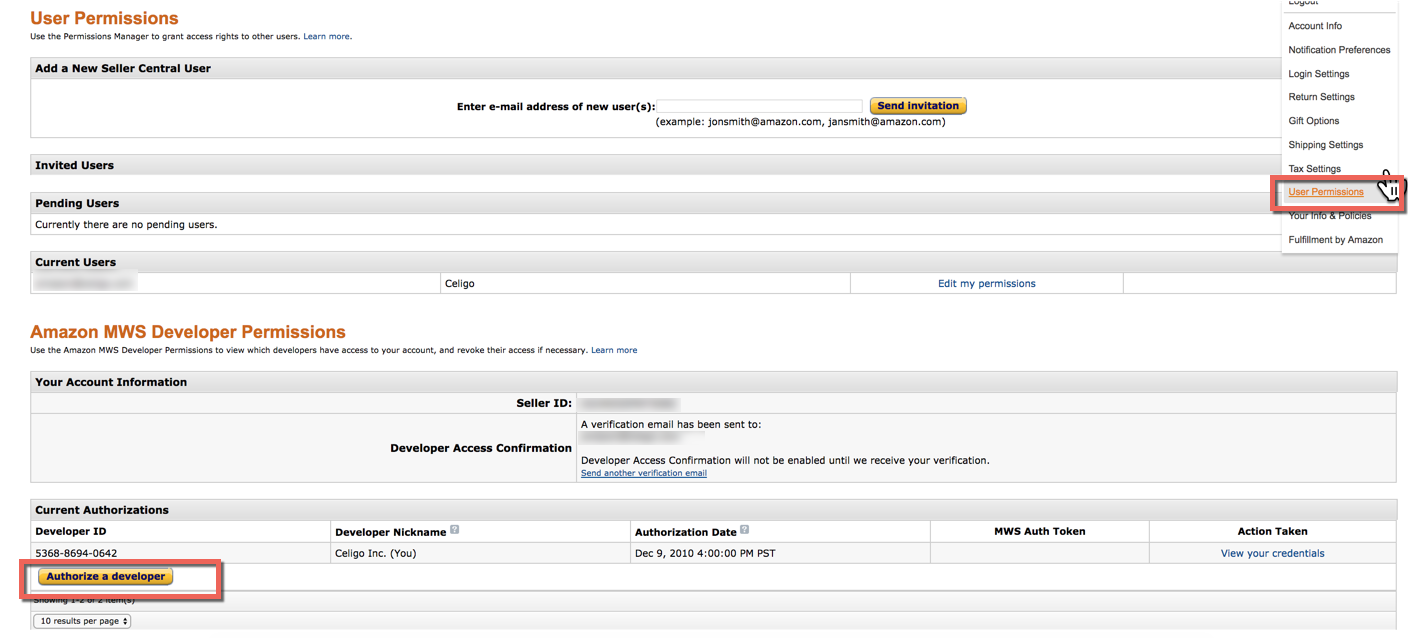 Related topics