To create integrations, you have to grant integrator.io access to your account. The connection gives us access to the info that you want to sync in Shopify.
API Guide: https://help.shopify.com/en/api/getting-started
Authentication page: https://help.shopify.com/en/api/getting-started/authentication
Connecting with OAth
Name: Required: Name the connection.
Connection type: Required: The form will automatically select Shopify.
Authentication type: Required: The user can choose either OAuth.
Store URL: Required: The user can find their URL when they login to their store, in the URL bar.
Configure scopes: Optional: The user can limit the permissions or access to their account when they configure scopes. Scopes are permissions.
Configure your scopes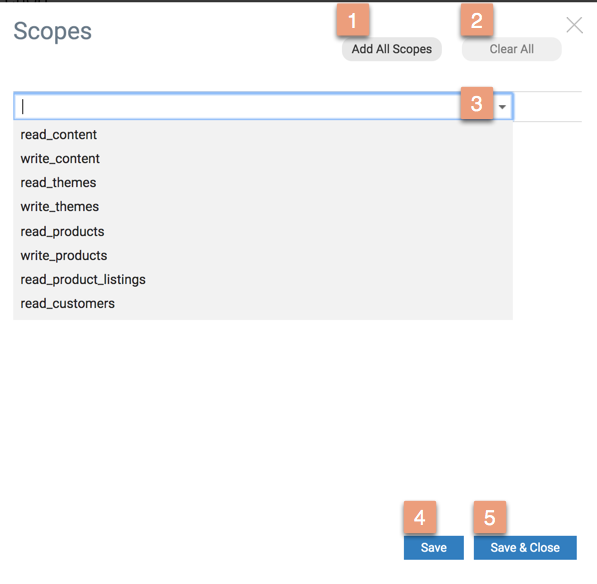 Add all scopes: To add all of the scopes available in the API, click Add all scopes.
Clear all scopes: If you're using a previously existing connection, and you want to remove the last scopes selected to include the ones you want, click Clear all scopes.
Scopes dropdown: Click into the bar to reveal the dropdown menu and choose a scope. After you make a selection, another bar will appear below the first. You can use that to select another scope. Continue until all of the scope you need are selected.
Save: To save your scopes as you go, click Save.
Save & close: When you're ready to leave the editor and finish setting up your connection, click Save & close.
Use advanced settings
Concurrency level refers to the number of different parts of the API that can be called at the same time.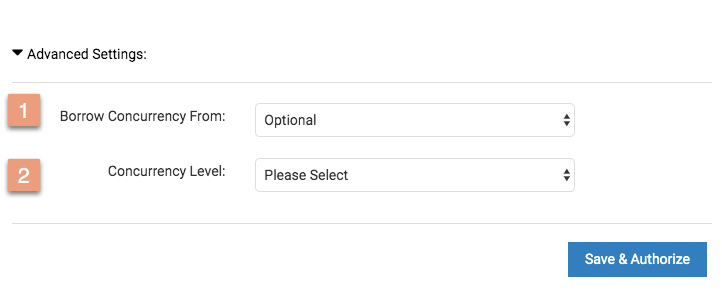 Borrow concurrency from (optional): Select another connection from the list....
Concurrency level (optional): Up to 25 allowed....
Save and authorize
After you've made all of your configurations, in the bottom right of the form, click Save and authorize.
Use the following steps to verify the connection was successful:
In integrator.io, at the top, click Tools & resources.
Under 'Resources,' click Connections. A table will appear.
In the table, find the name of the connection you just set up. If it was successful, it will say 'Online,' and there will be a green dot next to it.
If your connection was not successful, review the info that you entered in the form for accuracy.