Acumatica is a complete cloud ERP platform that provides solutions for all your business management needs.
Acumatica documentation: Developer guides
Contents
A. Set up an Acumatica connection
Start establishing a connection to Acumatica in either of the following ways:
From the Resources menu, select Connections. Then, click + Create connection at the top right.
– or –
While working in a new or existing integration, you can add an application to a flow simply by clicking Add source or Add destination/lookup.
In the resulting Application list, select Acumatica.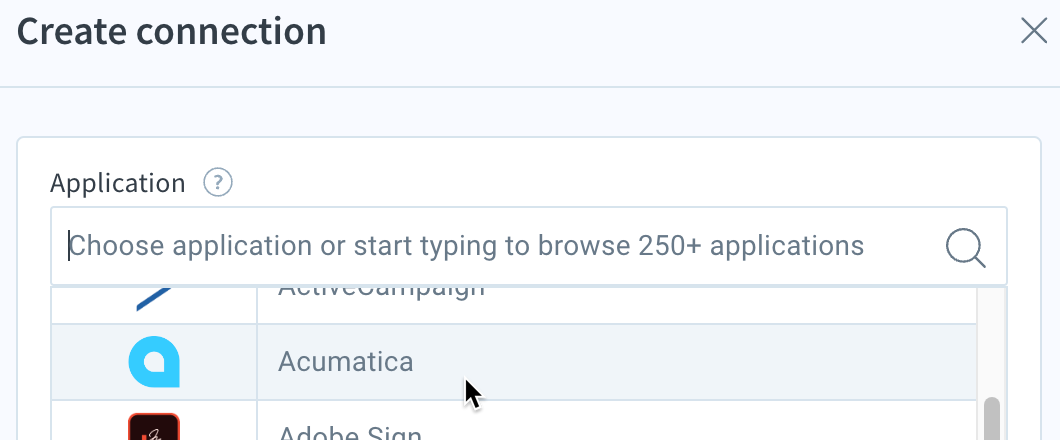 The Create connection panel opens with the required and advanced settings.
B. Describe the Acumatica connection
Edit the General settings specific to your account and this connection resource.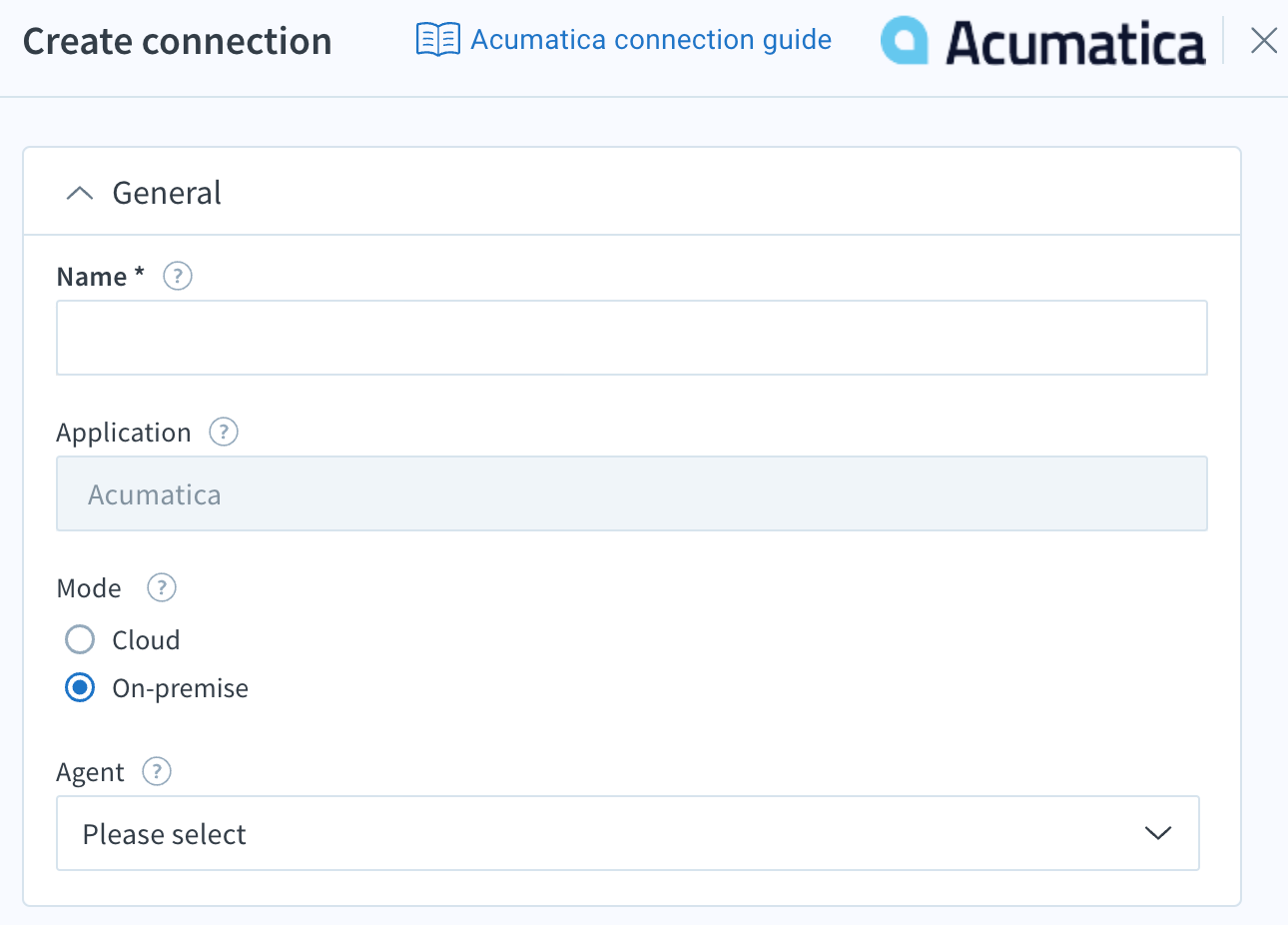 Name (required): Provide a clear and distinguishable name. Throughout integrator.io imports and exports, you will have the option to choose this new connection, and a unique identifier will prove helpful later when selecting among a list of connections that you've created.
Application (required, non-editable): A reminder of the app you're editing.
Mode (required): Select one of the following options:
Cloud to connect to a publicly accessible server application
On-premise to connect to a server that is publicly inaccessible and has integrator.io agent installed on it
Agent (required, if On-premise selected for Mode; otherwise not displayed): Select an agent from the list. To connect to an on-premise application, integrator.io requires that an agent be installed on a networked computer. An agent is a small application that allows you to connect to data behind your firewall. When installing an agent, you will specify a unique access token, which then populates the Agent drop-down list. The installed agents connect to integrator.io and establish a reverse SSH tunnel, allowing secure communication without the need to whitelist integrator.io IP addresses in your firewall settings. A single agent can be used by multiple different connections.
C. Provide required Acumatica account information
At this point, you're presented with a series of options for providing Acumatica authentication.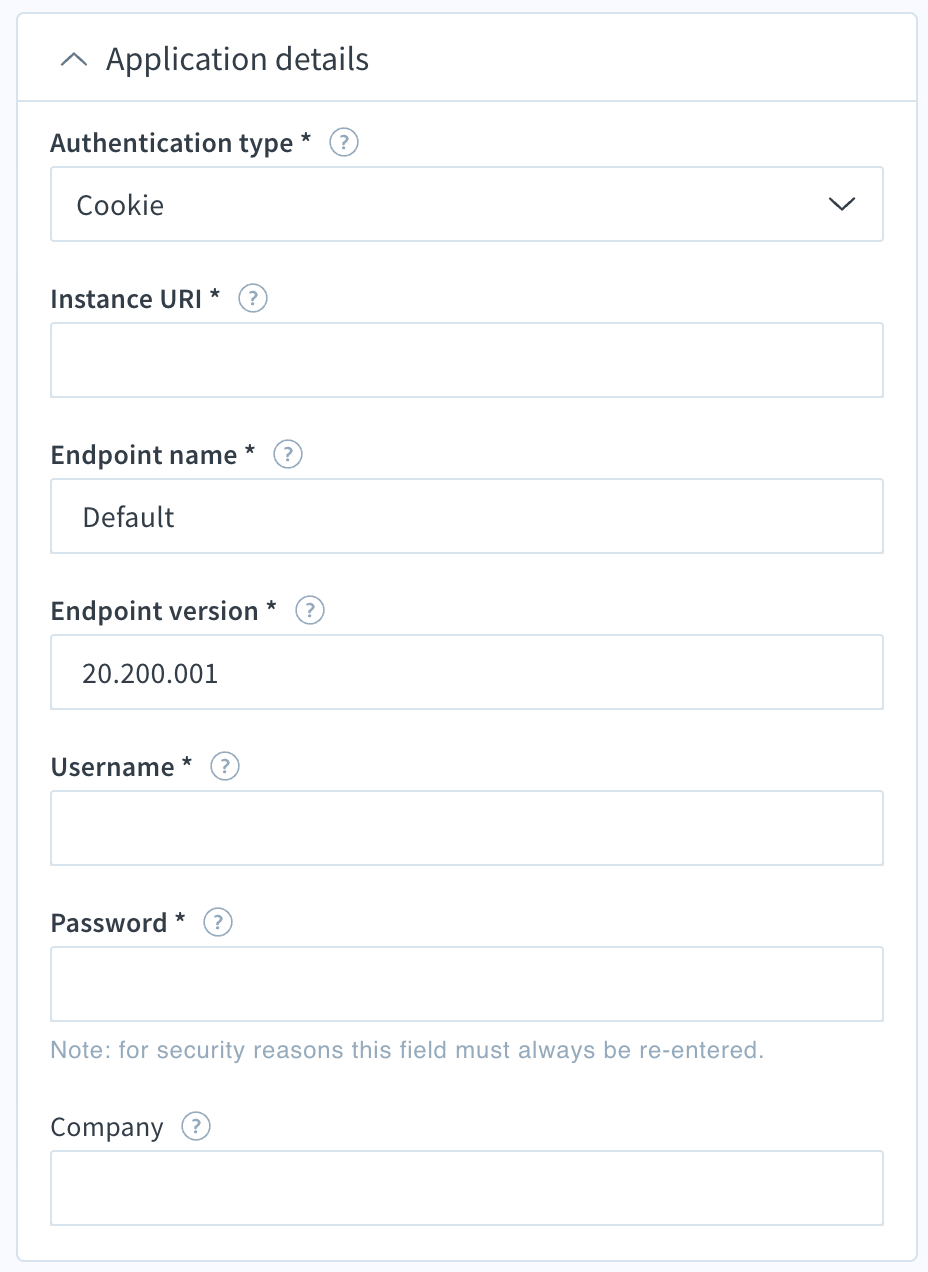 Authentication type (required): Select Cookie (the OAuth 2.0 option is described separately).
Instance URI (required): Enter the instance URI shown in your Acumatica account URL. For example. http://try.acumatica.com/isv/entity/Default/6.00.001.
Endpoint name (required): Enter the endpoint name found in your Acumatica account under Web service endpoints. Currently, we are supporting the Default, Manufacturing, and Ecommerce as endpoint names.
Endpoint version (required): Enter the endpoint version found in your Acumatica account under Web service endpoints. This setting defaults to the current version.
Username (required): Enter the username for your Acumatica account.
Password (required): Enter the password for your Acumatica account. Multiple layers of protection are in place, including AES 256 encryption, to keep your connection's password safe. When editing this form later, you must enter this value again; it is stored only for a saved connection.
Company (optional): Enter the company name for your Acumatica account.
Sign in to your Acumatica account
Search for Web service endpoints. The search result displays the API in the Endpoints folder.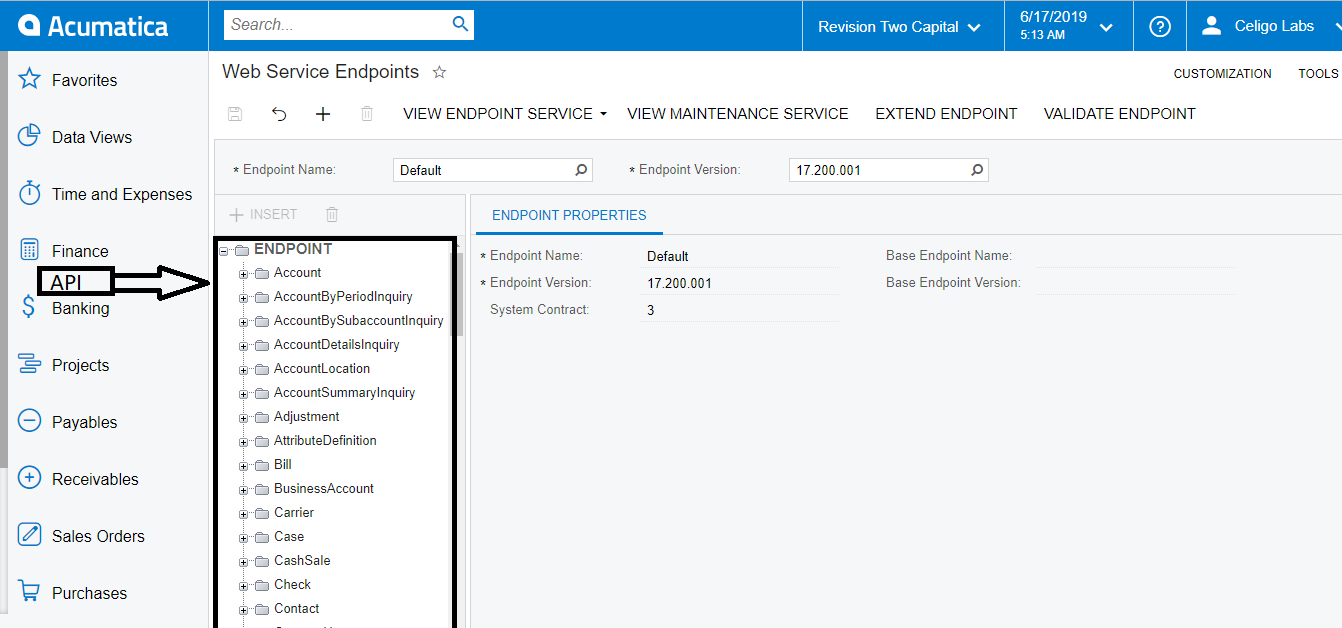 Notice that it also displays the endpoint name and version, required for your connection: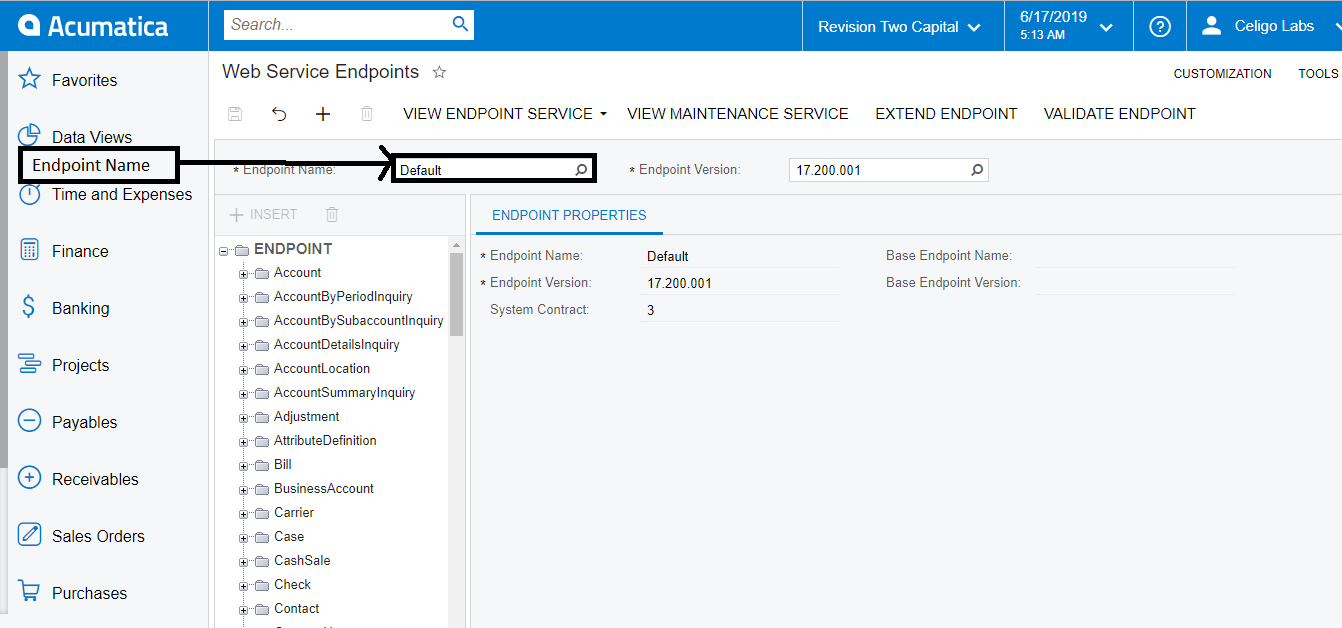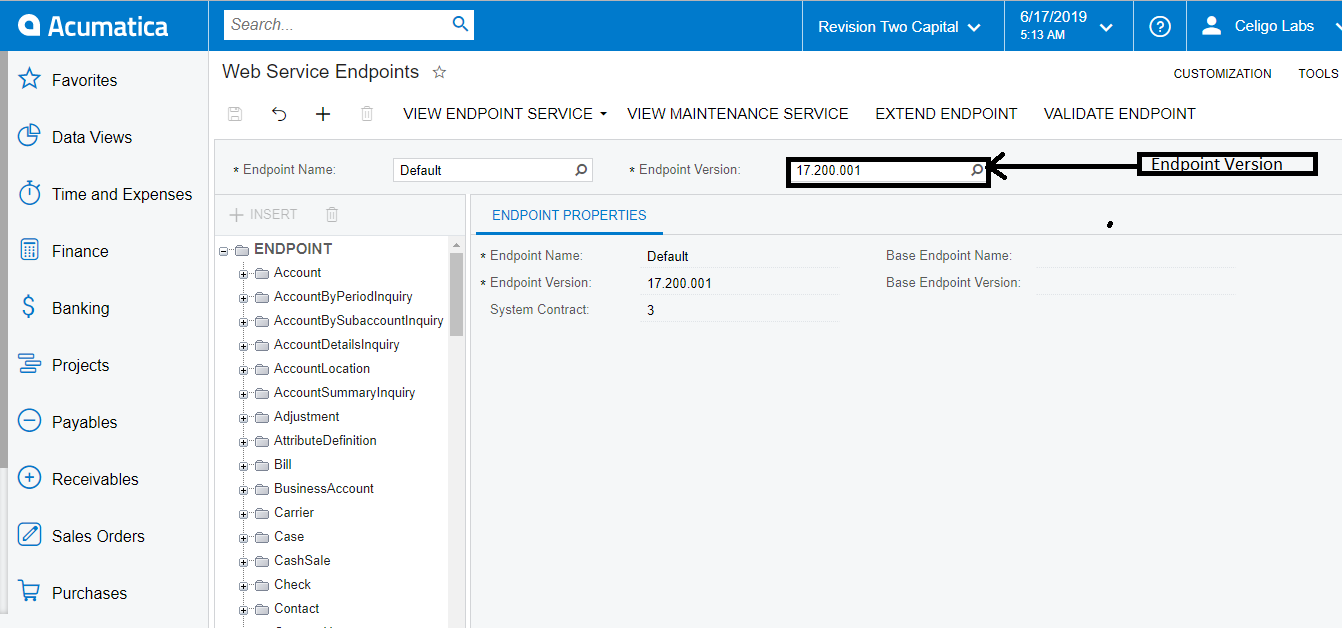 If your instance of Acumatica is stored on a local server (on-premise), you can establish your connection with the following steps:
Install and activate an on-premise agent.
Enter the localhost URL in the Instance URI field.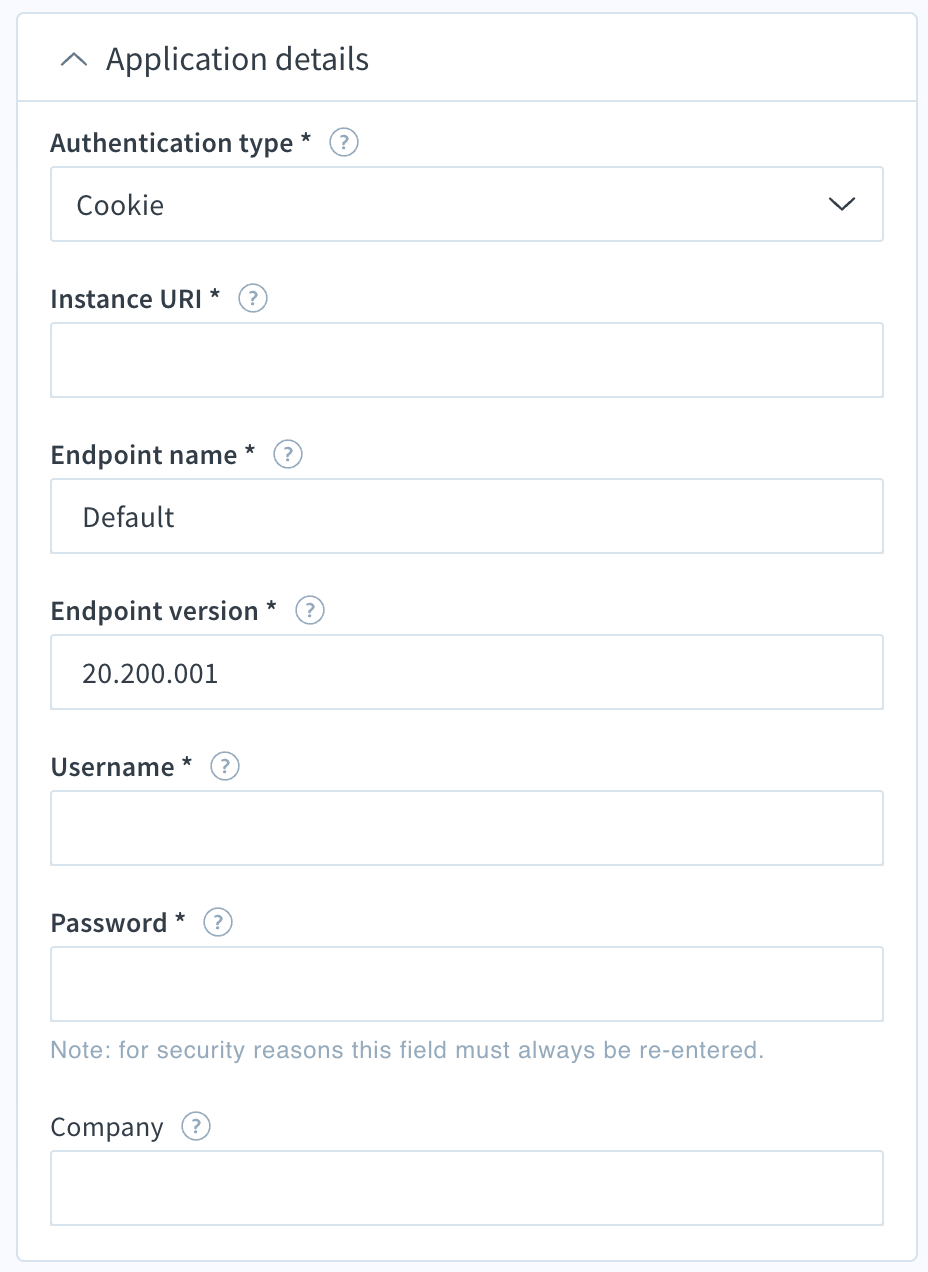 D. Edit advanced Acumatica settings
Before continuing, you have the opportunity to provide additional configuration information, if needed, for the Acumatica connection.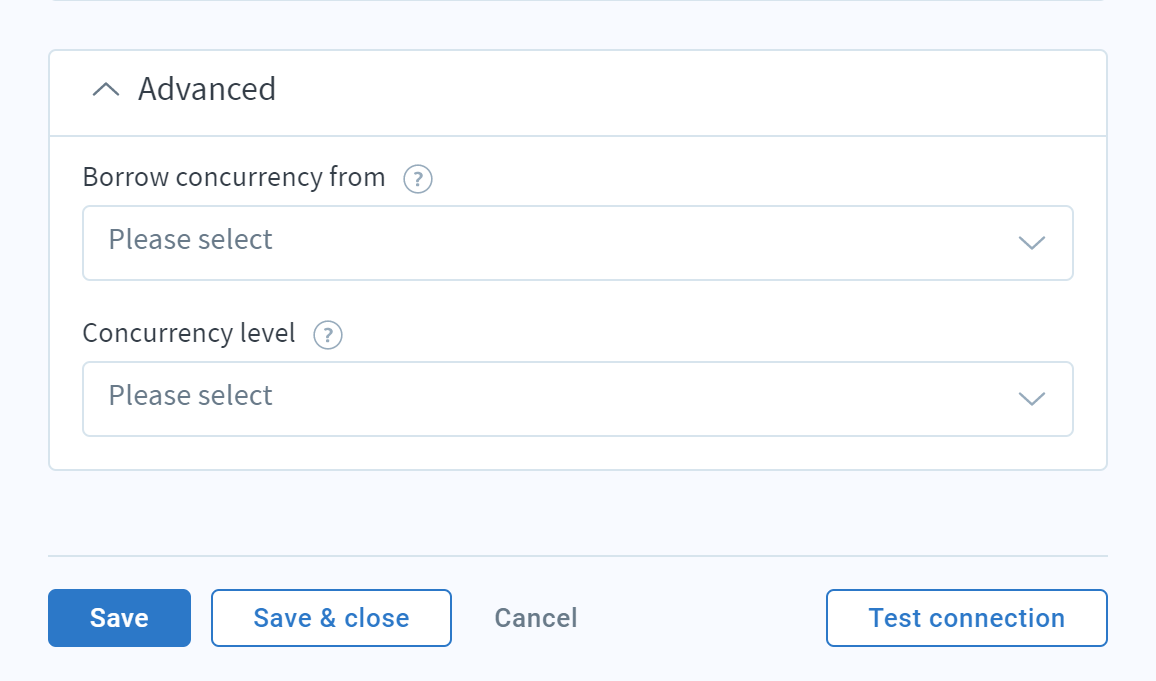 E. Test the connection
Once you have configured the Acumatica connection, you have a few options for continuing:
Save – click this button to test the connection, commit the new connection so that it will be available to all integrations for your account
Save & close – click to test and save the connection and exit the Create connection panel
Cancel – click to exit without saving any new changes
Test connection – click this button to verify that your new connection is free of errors
When you test or save the connection, it is verified before continuing.

The new connection is now successfully added to your account. It will be applied to the current source or destination app, if you created it within a flow. Otherwise, you may proceed to register the connection with an integration.
Troubleshoot Acumatica API login limit error
When saving or testing the connection, integrator.io sends a call to Acumatica's authentication URI. If you then click Save & close, the second call might cause the API login limit error since some Acumatica licenses support only one call at a time. To avoid this error, do not click Test connection during setup.
The API login limit is tied to the license. Trial mode allows only two concurrent users and one API user to simultaneously use the system. If the customer is using a trial mode Acumatica account, the connection may trigger an API login limit error. If you receive this error, wait 10 minutes before attempting the connection.
For more information, see the Acumatica licensing restrictions.
Read more about this connector: