The eBay – NetSuite Integration App helps retailers combine the selling power of eBay with the proven back-office features of NetSuite. With the eBay integration app, sellers can focus on increasing sales and manage orders without needing to manually sync their eBay and NetSuite accounts.
Note: The integration app is available in the US and EU marketplaces.
With the eBay - NetSuite integration app, you receive our expertise in NetSuite, eBay, and cloud integrations. Using this integration app, you can quickly and easily integrate order, product, and customer information between eBay and NetSuite without requiring additional development or IT support.
Prebuilt functionality
The eBay - NetSuite integration app comes with prebuilt integration flows that synchronize your Customers, Sales Orders, Fulfillments, Inventory levels, Pricing, and Items between NetSuite and eBay, eliminating the overhead associated with dual-entry and maintenance between multiple systems.
Integration flows
On a high-level, the integration app consists of the following key integration flows:
Import Customers from eBay to NetSuite

Import Sales Orders from eBay to NetSuite

Export Fulfillments from NetSuite to eBay

Export Inventory Levels & Pricing from NetSuite to eBay

Export Products, Variations from NetSuite to eBay
Workflow diagram
Following is a workflow diagram that explains the flow of information between eBay and Netsuite: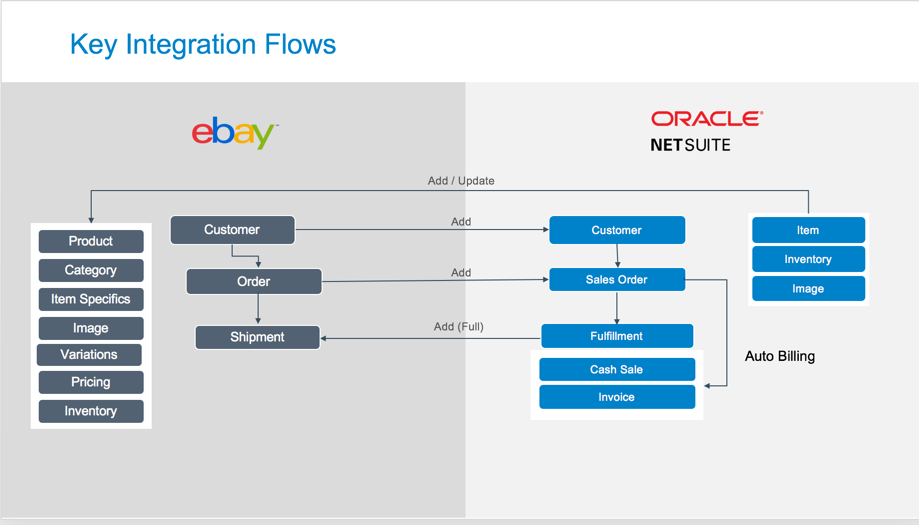 Take the following classes to learn more about this topic:
Read more about this Integration App: