The Shopify – NetSuite Integration App helps retailers combine the powerful Shopify eCommerce platform with the proven back-office features of NetSuite. With the Shopify integration app, sellers can focus on increasing sales and manage orders in real time without needing to manually sync their Shopify web store and NetSuite accounts.
Note
: It is recommended to install a maximum of 15 Shopify stores in one integration app tile to avoid any performance issues.
Prebuilt Functionality
Shopify - NetSuite integration app comes with prebuilt integration flows that synchronize your Customers, Sales Orders, Inventory levels, Items, Billing Info, Fulfillments, Cancellations and Refunds between NetSuite & Shopify, eliminating the overhead associated with dual-entry and maintenance between multiple systems.
Integration Flows
On a high-level, the integration app consists of following key integration flows:
Import Customers from Shopify to NetSuite
Import Sales Orders from Shopify to NetSuite
Export Fulfillments from NetSuite to Shopify
Export Inventory Levels from NetSuite to Shopify
Export Billing Information from NetSuite to Shopify
Export Products, Variations from NetSuite to Shopify
Export Order Cancellations from NetSuite to Shopify
Export Refunds from NetSuite to Shopify
Export Customers from NetSuite to Shopify
Export Sales Orders from NetSuite to Shopify
Workflow Diagram
Following is a workflow diagram that explains the flow of information between Shopify and Netsuite: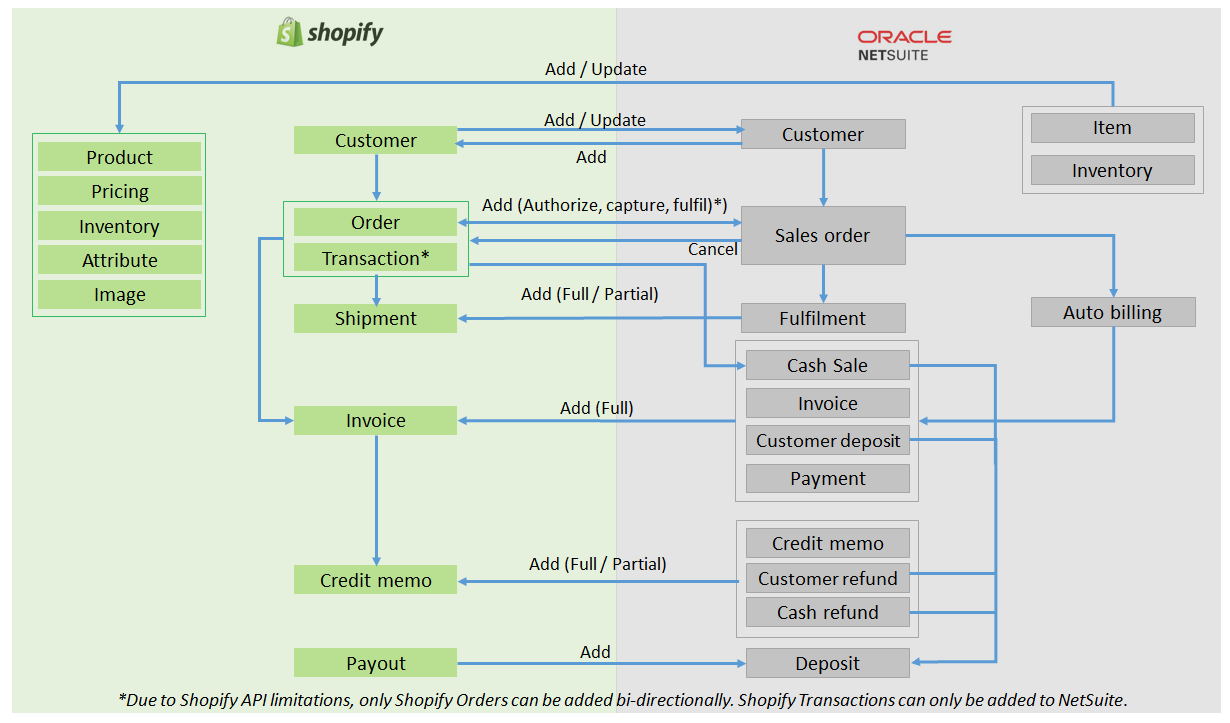 Take the following classes to learn more about this topic:
Read more about this Integration App: