Microsoft links: API guide, Authentication
A. Set up a Microsoft Outlook Mail connection
Start establishing a connection to Google Contacts in either of the following ways:
From the Resources menu, select Connections. Then, click + Create connection at the top right.
– or –
While working in a new or existing integration, you can add an application to a flow simply by clicking Add source or Add destination/lookup.
In the resulting Application list, select Microsoft Outlook Contacts.
B. Provide Microsoft Outlook connection details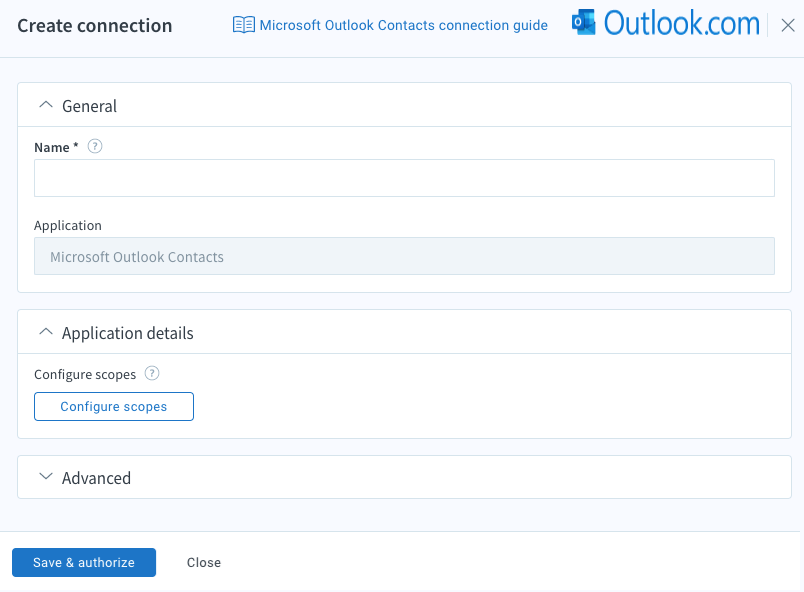 Name (required): Name the connection.
Application (required, non-editable): A reminder of the app for which you're creating a connection.
C. Supply required Microsoft Outlook account information
Configure scopes (required): Scopes are permissions that the Microsoft Graph API defines to limit the access to your account.
Click the Configure scopes button.
To access all of the scopes in the API, click the » button.
– or –
Check the scope you want to add, and click the > button.
Click Save when you're ready to leave the editor and finish setting up your connection.
Borrow concurrency from (optional): Select another connection from the list....
Concurrency level (optional): Up to 25 allowed....
D. Save and authorize the connection
Once you have configured the Microsoft Outlook Contacts connect, click Save & Authorize.
Sign in to Microsoft with the user account containing the contacts you want integrator.io to be able to access through this connection.
After signing in, review the permissions for the integration and click Yes.
Read more about this connector: