Yotpo links: API guide, Authentication
Integrator.io supports connections to the Reviews endpoints of the Yotpo UGC API. Setting up a connection to Yotpo enables you to sync customer reviews with other applications.
A. Set up a Yotpo connection
In integrator.io, establish a connection to Yotpo in either of the following ways:
From the Resources menu, select Connections. Then, click + Create connection at the top right.
– or –
While working in a new or existing integration, you can add an application to a flow by clicking Add source or Add destination/lookup.
In the resulting Application list, select Yotpo.
B. Provide Yotpo connection details
On the Create Connection page, set the following options: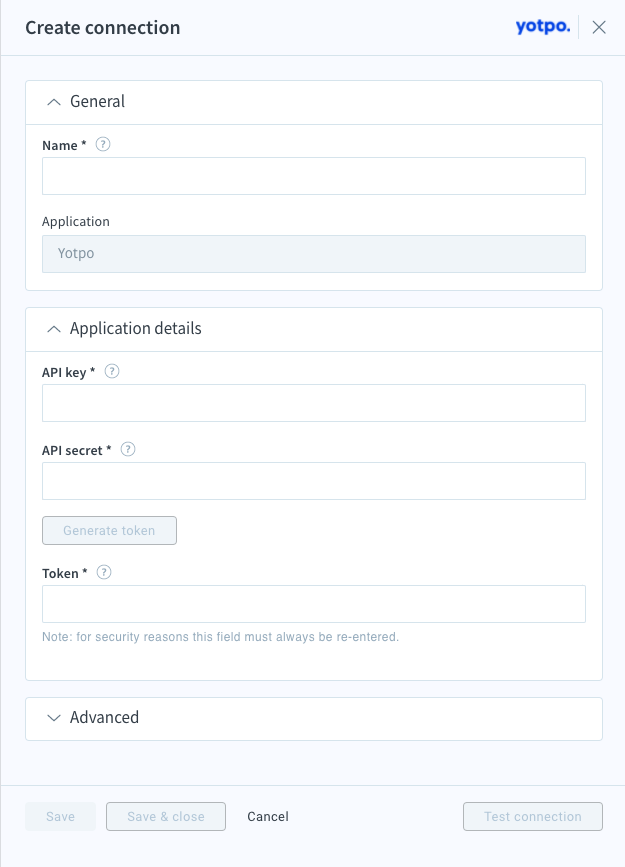 Name (required): Provide a clear and distinguishable name. Throughout integrator.io imports and exports, you will have the option to choose this new connection, and a unique identifier will prove helpful later when selecting among a list of connections that you've created.
Application (required, non-editable): A reminder of the app you're editing.
API key (required): Paste or enter the Yotpo key.
API secret (required): Paste or enter the Yotpo secret.
Sign in to your Yotpo

Reviews & Ratings

account as an administrator.
Click on the profile icon at the top right corner of the screen.
Select

Store Settings.
At the bottom of the

General Settings

section, copy your API credentials.
Token (required): Click the Generate token button to have integrator.io fill in an encrypted access token.
C. Edit advanced Yotpo settings (optional)
D. Test the connection
Click Save & close.
A message appears to confirm a successful connection.
If you receive an error message, try re-entering your API key and secret.