Quickbase links: API guide, Authentication
Additional reference: Supported Quickbase APIs
Integrator.io supports connections to Quickbase, a no-code application development platform that allows citizen users to create custom applications.
A. Set up a Quickbase connection
In integrator.io, establish a connection to Quickbase in either of the following ways:
From the Resources menu, select Connections. Then, click + Create connection at the top right.
– or –
While working in a new or existing integration, you can add an application to a flow by clicking Add source or Add destination/lookup.
In the resulting Application list, select Quickbase.
B. Provide Quickbase connection details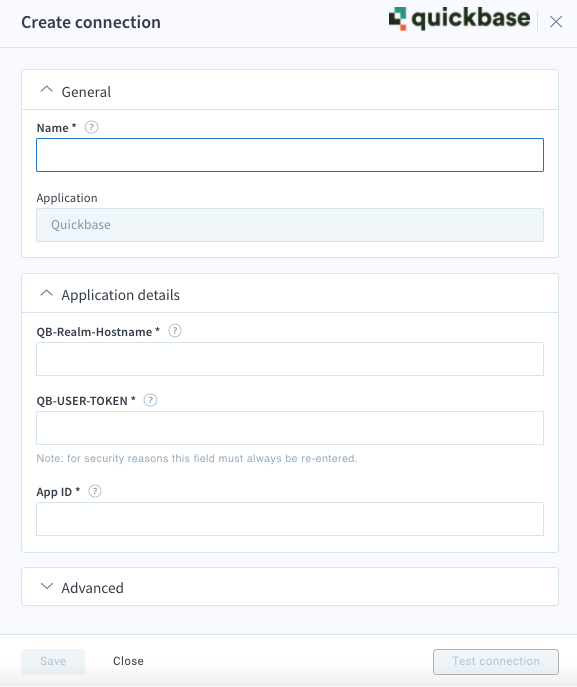 On the Create Connection page, set the following options:
Name (required): Provide a clear and distinguishable name. Throughout integrator.io imports and exports, you will have the option to choose this new connection, and a unique identifier will prove helpful later when selecting among a list of connections that you've created.
Application (required, non-editable): A reminder of the app you're editing.
QB-Realm-Hostname (required): Enter the hostname for your Quickbase account. For example, if your account is located at https://demo.quickbase.com/, then your hostname would be demo.quickbase.com
QB-USER-TOKEN (required): Paste or enter your Quickbase user token.
Sign in to your Quickbase account.
In the top right, click the dropdown arrow next to your profile name. Then, click My preferences.
Under

My User Information, click the link next to Manage User Tokens.
Copy the existing token, or click New user token to generate one. Enter a Name and click Save to generate the token.
Under Manage token assignments, ensure the token is assigned to the app you are using for this integration.
Keep Quickbase open as you continue to work through the connection configuration in integrator.io.
App ID (required): Paste or enter your Quickbase app ID.
To find the App ID in Quickbase, navigate to your existing app or create a new app. The App ID appears at the end of the URL in the address bar. For example:
https://demo.quickbase.com/db/brpswdr6u
If you create a new app, ensure you assign the new app to your user token.
C. Edit advanced Quickbase settings (optional)
D. Test the connection
Click Test connection to check whether your connection is successful. A message appears to confirm a successful connection.
If you receive an error message, ensure you entered the correct hostname, token, and app ID. Also verify in Quickbase that your user token is assigned to the app you are using in this configuration. Make any necessary changes and click Test connection again.
Once the configuration is complete, click Save & close.