Support tickets allow you to report an issue, ask questions about integrator.io, resolve billing issues, or get help with Integration Applications. By submitting a ticket, we can help you with any number of system, integration, connection, or flow issues.
Contents
Submit a support ticket or provide feedback
Not sure if you should submit a support ticket or provide feedback? Support tickets are created when you have a technical issue with your integrations. This could be reflected by errors when creating or editing flows, malfunctioning or non-functioning integrations, or other system-breaking issues.
In order to submit a support ticket, you can either use the Celigo Help Center or integrator.io.
On the other hand, providing feedback is appropriate when you want a new feature, want changes to an existing feature, or want to submit general feedback about integrator.io.
Submit a support ticket
Note: Choosing the correct category affects your entire support ticket process. For example, if you have an issue with the Shopify – NetSuite Integration App but select integrator.io, your ticket won't reach the proper support team (Shopify). Instead, it will be routed to the integrator.io team, and they will have to transfer your ticket to the Shopify team.
Submit a support ticket in integrator.io
You can submit a support ticket while signed into integrator.io using the Help menu in the application sidebar. Select Submit ticket and continue on to create your ticket through integrator.io.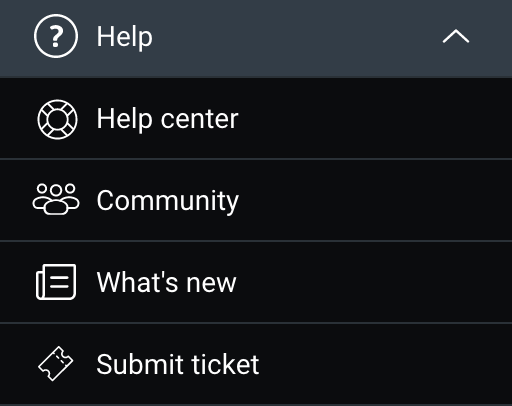 Submit an integrator.io ticket via the Help Center
After navigating to the Celigo Help Center, you can click Submit ticket and choose a category using the dropdown or by clicking a tile. There are three types of integrator.io tiles:
Integrator.io: This covers any troubleshooting questions you may have about integrator.io.
General, billing, other: This covers any general, billing, or other questions about integrator.io.

Note: This section is meant for questions about integrator.io as a platform, not for integrator.io troubleshooting help. To get troubleshooting help, use the integrator.io category.
integrator.io help
There are multiple subcategories you can use to further narrow down your topic. Remember, narrowing down the topic can help our Support team resolve issues quickly. The subcategories are:
API (api.integrator.io)
Audit Log
Cloning
Concurrency/Governance
Connectivity
Error/Dashboard
Filters
Flow Builder
General Help
Hooks / Wrappers / Stacks
IO Managed Integrations
Javascript
Mapping
Marketplace
Notifications
On-Premise Agent
Other
Paging
Product Defect / Bug
Product Enhancement;
Recycle Bin
Roles and Permissions
Sample Data
Security / Privacy
SmartConnector Builder
Subscription / Licensing
Template Zips
Transfer Ownership
Transforms
Webhooks
If you're not sure which subcategory to select, try searching for similar topics in our help center or community posts to get further background on the listed topics.
Regardless of the subcategory you choose, you still need to provide basic information about your instance of integrator.io.
Required fields
Required fields must be completed to submit a ticket.
Subject: A quick summary of your issue.
Description: An in-depth description of your issue.
Do you currently have an open project with Celigo to implement this integration?: This determines if you have any open projects with Celigo to implement the integration you're submitting a ticket for.
Environment: In what environment is your issue occurring?

Sandbox: Your testing environment.
Beta: A beta or secondary testing environment.
Production: Your production or "live" environment.

Integrator.io Subcategory: Select one of the subcategories listed above.
Optional fields
Note:
Remember, providing the most information possible on a ticket will give you the fastest and easiest resolution. Example details you should include:
Error messages (can be provided in the description).
Integration and flows encountering the issue.
Any attempted resolutions of the issue.
Any community questions you've posted or help center articles you've reviewed.
Optional fields are not required, but assist Support in understanding and solving the issue.
CC: Other co-workers you would like to include in the support ticket (by including their email).
Urgency: The priority or level of concern for the issue.

Low: A low priority issue is important, but doesn't need to be resolved immediately. Low priority issues are usually not breaking your integrations.
Normal: A normal priority issue is important, but is not breaking major parts of your integrations.
High: A high-priority issue is important and might be preventing your integration from performing at its best.
Urgent: An urgent issue is important and is nearly or completely stopping your integrations from performing as expected.

Preferred Time Zone: Your local time zone. This helps schedule meetings appropriately.
integrator.io connected applications: Any applications connected to integrator.io that might be related to the issue.
Integration Name: The name of your erroring integration.
Flow Name: The name of your erroring flow.
Celigo Partner: If you are or are not a Celigo partner.
Attachments: Any screenshots or videos of your errors.

Note: Include as many images or videos of your errors as possible. When submitting an image, ensure that the entire screen is visible rather than just the error. This will help provide context for the support team.
Poor screenshot
Good screenshot
General, billing, or other questions
This subsection is for any general questions about integrator.io, to resolve billing errors, or for any other miscellaneous questions you might have.
Note: This section is meant for questions about integrator.io as a platform, not for integrator.io error or troubleshooting help. To get error or troubleshooting assistance, use the integrator.io category.
Submit an Integration App ticket
Integration apps represent fully functional pre-built integrations that you can install into your integrator.io account from the integrator.io Marketplace. They include an installer, an uninstaller, and a settings interface. Developers can push updates at any time for any connector to their entire install base. Integration apps are mostly made up of code that uses the integrator.io API to interact with a user's account. All components created in a customer's account are tagged with the integration app's _id (via the _connectorId field). An integration app can modify only those components tagged with its own _id. The schema primarily serves the purpose of listing an integration app in the integrator.io marketplace with a description, imageURL, websiteURL, and so forth.
The Integration Apps we provide are:
NetSuite standard integrations

ADP
Amazon MCF
Amazon Seller Central
BigCommerce
Cash Application Manager (IO)
Cash Application Manager (V2)
eBay
Magento 1 (V4 IO) (by Nova Module)
Magento 2
Payout
Salesforce (IO)
Salesforce (V2)
Salesforce Commerce Cloud
Shopify
Silicon Valley Bank
Square
Vendor Payment Manager
Wal-mart
Zendesk

NetSuite to NetSuite operations (by Nova Module)

Auto-Bill Sales Orders in NetSuite
Auto-Create Customer Deposit

NetSuite integrations (by Nova Module)

DCL (3PL)
Facebook Catalog Manager
GoogleMerchant
Ramp Logistics
Stripe
WooCommerce

NetSuite Connector (by Nova Module)

Returnly
ShipStation
Shipwire
SkuVault

Salesforce integrations
Required and Optional fields
The required and optional fields are identical to those for integrator.io. However, some integrations might have additional required fields, such as Categories. These categories vary by Integration App and can be related to the type of flow, import, or export.
Find your active tickets
You can find your recently submitted support tickets by logging into Celigo's Help Center.
Select your profile avatar.
Select My Activities.
Troubleshooting tips
If you have transferred accounts between users, you must access the support ticket center immediately to avoid login issues when accessing your support tickets. You can do this in integrator.io by selecting Help > Submit ticket in the IO sidebar or by following the steps above. Note that one of the following conditions must be true.
If the previous owner's integrator.io account is not going to be used,

Then new account owner should visit the support ticket center first.
–or–
If the new integrator.io account owner is a generic email,

AND your organization's employees are using integrator.io with that account
AND the previous owner is also a regular user
Then the old account owner should visit the support ticket center first.
Note: You do not need to submit a support ticket to properly transfer accounts. You just need to visit the support ticket center.
Give Support access to your account
You can give our Support team access to assist you by providing your credentials via LastPass. Please be aware that Celigo Support cannot accept an invitation to any individual account that requires them to use your SSO provider. If you are sharing your integrator credentials, you should remove the SSO requirement for your individual account before sending the information via LastPass.