Jira documentation: API Guide, Authentication
1. Set up a Jira Cloud platform connection
Start establishing a connection to Jira Cloud platform in either of the following ways:
From the Resources menu, select Connections. Then, click + Create connection at the top right.
– or –
While working in a new or existing integration, you can add an application to a flow simply by clicking Add source or Add destination.
In the resulting Application list, click Jira Cloud platform.

2. Edit required Jira Cloud platform settings
At this point, you're presented with a series of options for modifying the Jira Cloud platform authentication.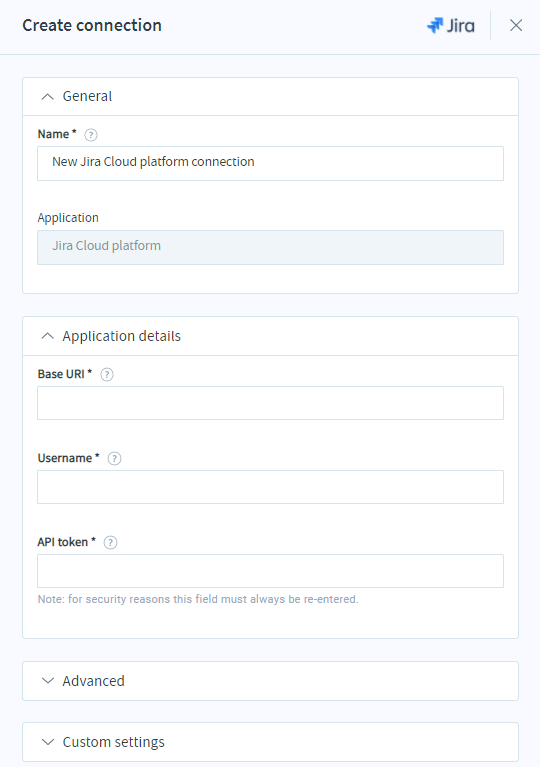 Name (required): Name the connection.
Base URI: The base URI for Jira Cloud platform is https://<your-domain>.atlassian.net. Replace <your-domain> with the base URL for your Jira Cloud platform.
Username (required): The username of your Jira Cloud platform account.
API Token (required): API token for the Atlassian account. To generate a token, log in to your Atlassian account, and go to User management > Profile > Security > API token.
Borrow concurrency from (optional): Select another connection from the list
Concurrency level (optional): Up to 25 allowed
3. Save, test, and authorize
Once you have configured the Jira Cloud platform connection, you have a few options for continuing:
Test

– click this button to verify that your new connection is free of errors
Test and save – click this button to test the connection, commit the new connection so that it will be available to all integrations for your account (and applied to the current source or destination app, if you created it within a flow)
Cancel

– click this link to exit connection creation without saving
When you request Test or Test and save, a new browser window opens to ask you to grant access to integrator.io.
Read more about this connector: