Introduction
Integrate your Shopify stores with Acumatica for timely order fulfillment, accurate product availability, and real-time visibility into order status. The Shopify-Acumatica quickstart integration template comprises a set of pre-built integration flows. These flows help you sync Customers, Products, Inventories, Orders, Fulfillments, Billings, Order Cancellations, and Customer Refunds information between Shopify and Acumatica.

Template features
Comprehensive out-of-the-box flows
Optimize the shopper buying experience with on-time fulfillment, real-time product availability and order statuses.
Intuitive setup without coding
Experience faster time-to-value and higher efficiencies with our pre-built, out-of-the-box integrations that require minimal IT support.
Streamlined business operations
Scale-up your operational efficiency by automating redundant and laborious manual tasks and processes.
Top-tier support with low maintenance
Minimize ongoing costs through continuous upgrades, maintenance, and support extended by our integration champions at Celigo.
Pre-built Integration Flows
Whether your Shopify storefront handles hundreds, thousands, or millions of orders, Celigo offers a comprehensive integration solution to streamline and scale eCommerce operations.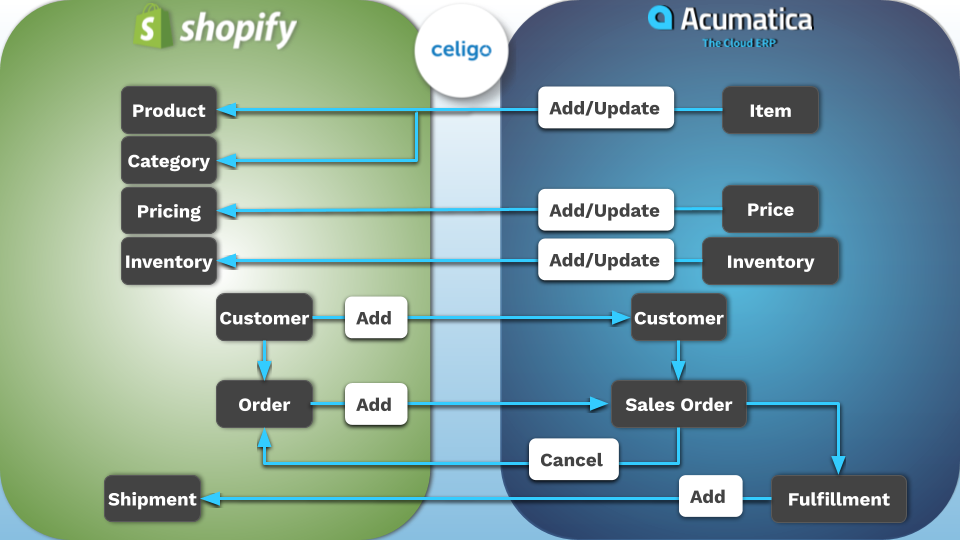 Image: An illustrative flow diagram for the Shopify-Acumatica data flow.
Order Management
View and manage orders in Acumatica as soon as shoppers check out.
Shipping & Fulfillment
Leverage advanced fulfillment logistics features in Acumatica to send real-time updates on shipping statuses of orders like 'pick,' 'pack' or 'ship' to customers.
Inventory Levels
Display the right quantity in your Shopify store. Sync your stock levels between Acumatica and Shopify and avoid underselling or overselling your products to customers.
Products
Manage your item catalog centrally in Acumatica and automatically publish product listings to Shopify. Keep your Shopify stores up-to-date with an accurate list of products in your product listings.
Payment & Invoicing
Support multiple payment capture scenarios – including payment at the time of sale or post-order fulfillment.
Cancellations & Refunds
Manage cancellations and refunds within Acumatica and publish statuses in Shopify.

Key benefits
Optimize buying experience

with timely fulfillment of orders, accurate product availability, and real-time order statuses.

Take control of your integrations

with tools that let you configure and allow you to make mapping changes on the fly.

Efficiently scale operations

by automating processes that rely on Acumatica and Shopify platforms.

Reduce maintenance time with a dashboard for sophisticated error handling and integration support provided by Celigo.

Supported flows
Integrate your Shopify stores with Acumatica for timely order fulfillment, accurate product availability, and real-time visibility into order statuses. Celigo's Quickstart bundle contains pre-built workflows that you can easily configure and deploy without coding or IT support.
The Shopify-Acumatica quickstart integration template supports the following flows:

| | |
| --- | --- |
| Flow name | What's not supported? |
| Shopify customers to Acumatica customers | |
| Acumatica customers to Shopify customers | |
| Shopify orders to Acumatica sales orders | Order updates |
| Acumatica sales orders to Shopify orders | Order updates |
| Acumatica sales invoices to Shopify billing | |
| Acumatica sales order cancellations to Shopify order cancellations | |
| Shopify order cancellations to Acumatica sales order cancellations | |
| Shopify refunds to Acumatica customer refunds | Sales orders with statuses other than "Refunded." |
| Acumatica refunds to Shopify refunds | Sales orders with statuses other than "Refunded." |
| Acumatica shipments to Shopify fulfillments | Partial fulfillments |
| Acumatica items to Shopify products | We do not support matrix items. Syncing data for matrix items require a separate extension. |
| Acumatica inventories to Shopify inventories | |
Read more about this solution or request a demo: