Create an FTP connection
Go to the Resources menu and click Connections. The Connections page opens.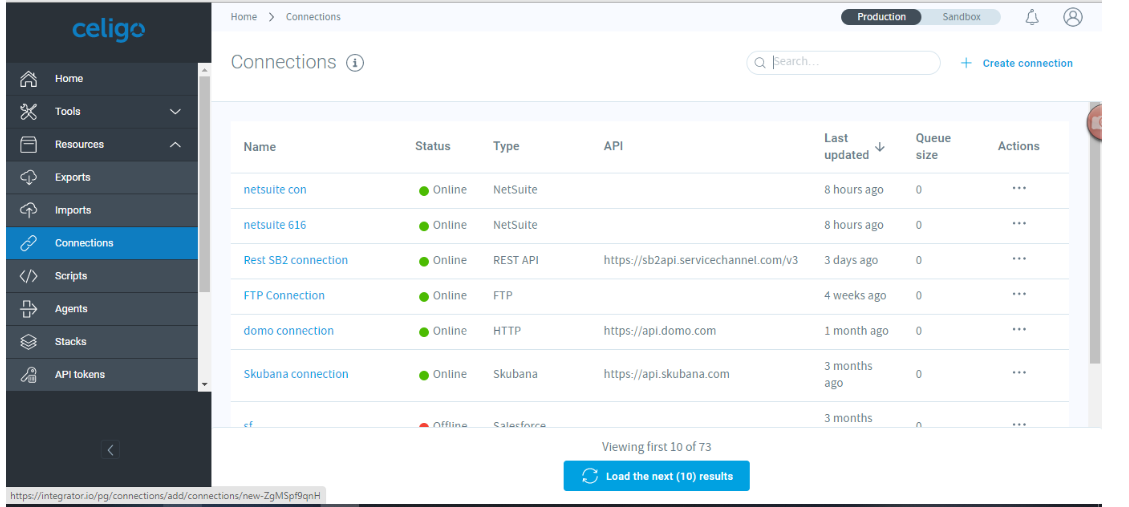 Click + Create connection and select FTP from the Application list. The Create connection pane displays.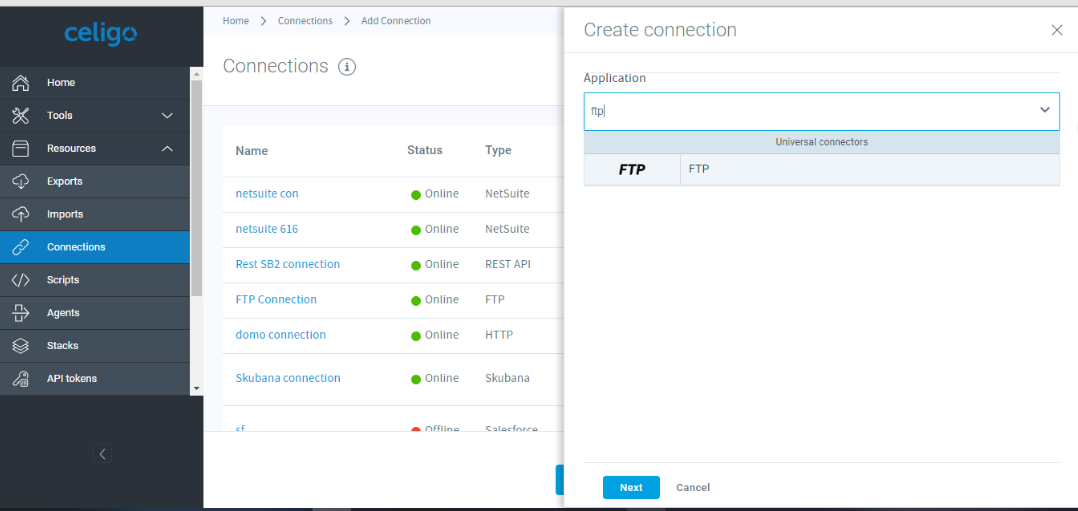 Name your Connection so that you can easily reference it from other parts of the application.
Click Next to continue and describe your FTP connection.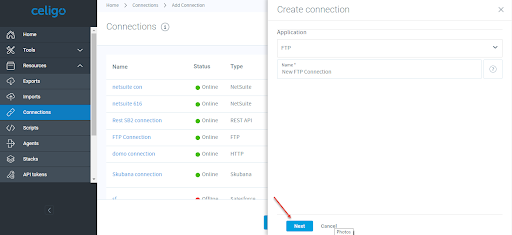 Configure an FTP connection
You can configure your FTP connection using the following protocols:
FTP, or file transfer protocol – not recommended due to lower security
SFTP, or secured file transfer protocol
FTPS, or file transfer protocol with SSL security
FTP protocol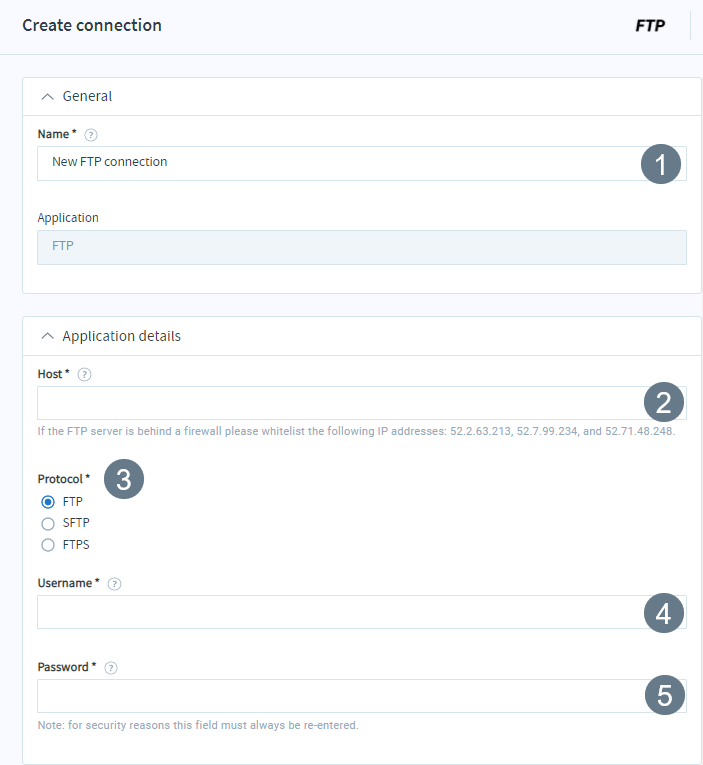 Name (required): Enter a unique name to the connection for easy reference.
Host (required): Enter the URI of the server host. For example: ftp.mycompany.com or 100.200.300.1.
Protocol (required): Choose the file transfer protocol (FTP, SFTP, or FTPS) for establishing the FTP connection.
Username (required): Enter the username for your account on the FTP server.
Password (required): Enter your password to log in to the FTP server.
SFTP protocol
Authentication key (PEM format) (optional): An SFTP connection can use a password or an authentication key to authenticate a user trying to connect to the SFTP server. Use this field to store the RSA private key used for authentication. It must be in PEM format. You can use a password, an authentication key, or both. We do not support keys with a passphrase so the SSH keys should always be generated without a passphrase. For more information, see Use SSH keys for SFTP connections.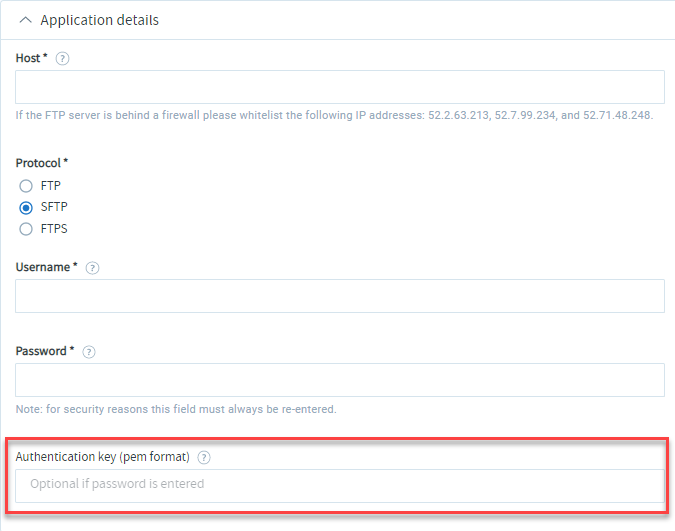 FTPS protocol
Use implicit FTPS (optional): If the server supports Implicit FTPS (where the client and server always use an encrypted connection), check this box. Its default is Explicit.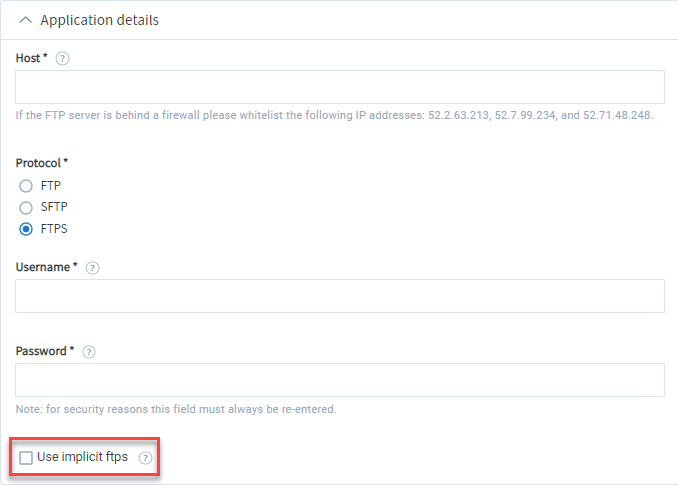 Advanced settings
You can also configure the advanced settings fields.
Port (required): This field is set to default port numbers based on FTP, SFTP, and FTPS protocols. You can change this field to any port number to override the default value.
Use passive mode: This field is checked by default to use passive mode instead of active mode. If you want active mode instead, uncheck this box.
User directory is root (optional): This field is used if the relative path used by a file export or import is relative to your FTP login's user directory or to the server root folder.
For example, suppose your files are located on the server at /usr/local/iio/files/download – if your FTP server account places you in your user directory after login (/usr/local/iio), then check this box and enter /files/download as your relative path. If you go straight to the server's root directory (/) after login, then leave this box unchecked and provide /usr/local/iio/files/download as your relative path.
Entry parser (optional): This is an optional field and this field can be set if your FTP server is an uncommon type (not Windows or Linux), or it does not support the SYST command.
Require socket reuse (optional): When we select the protocol as FTPS in advanced settings, we see an extra field called Require socket reuse. By default, FTPS servers are configured to use two sockets on two different ports for connections. If your FTPS server uses only one port for FTPS traffic you can check this optional box to tell Celigo integrator.io to reuse one socket to connect to this one port.
Enable PGP cryptographic: If this connection will be used to transfer and encrypt/decrypt files using PGP, enable this option and configure the settings.
Concurrency level (optional): Set this field to limit the number of concurrent/parallel requests allowed by the connection at any one time. By default, the connection will send data as quickly as possible. The FTP connection's Concurrency level applies only to downloading files during export. All files uploaded to an FTP server during an import are sent one at a time.
Test and save the connection
Once you are done with configuring all the required fields, click Test connection to verify if the connection is successful, and then save the connection.
See also