When should I use a wrapper connection?
You generally create a wrapper connection when you are integrating with a system which supports protocol/data exchange mechanisms which are not supported in integrator.io However, integrator.io provides flexibility to define your own custom connection and exports and imports to create a flow and sync data.
What kind of data can I pass via a wrapper?
You can also pass info related to the external system like, the API base URI, relative path etc in the unencrypted section in the connection and sensitive information(like token, password) under the encrypted section in JSON format. Please note that you will not be able to see the encrypted after you save and reload the connection gain in IO, so it's better to keep note of the schema of the JSON object):
Prerequisites
To see Stacks in the sidebar, you'll need to have Developer Mode enabled.
integrator.io provides an easy-to-use framework for extending integrator.io through various extension functions that can be hosted on multiple environments (both server based or server-less). Currently, integrator-extension supports execution of extension functions through two extension types, both of which are public github repositories:
Server:

Express

-based app running on a server
Create a stack
You'll need to create your own stack where all the logic will reside for connecting to the external system and exporting/importing data from that system.
Click Resources > Stacks > Create stack to create a new stack.
If you're creating a Server type stack, provide a Name and the Host address of the stack where all of the code resides.
If you're creating an AWS Lambda type stack, you'll need to provide the following information:

Go through the readme files of the respective repos and specify the wrapper functions required to set up the connection especially the

ping

function which lets integrator.io know if the connection to your stack is active.

For a Server stack, once you've saved the stack, you will see a Show token link in the System token column. Click that link, then click the copy icon to copy the token. You'll need this access token to enable

the wrapper extension to communicate with integrator.io:
Create a wrapper connection
After completing the above steps, click Resources > Connections -> New connection, then choose the Wrapper application connector.
Provide the required information for the stack, then click Test connection.
Click Save.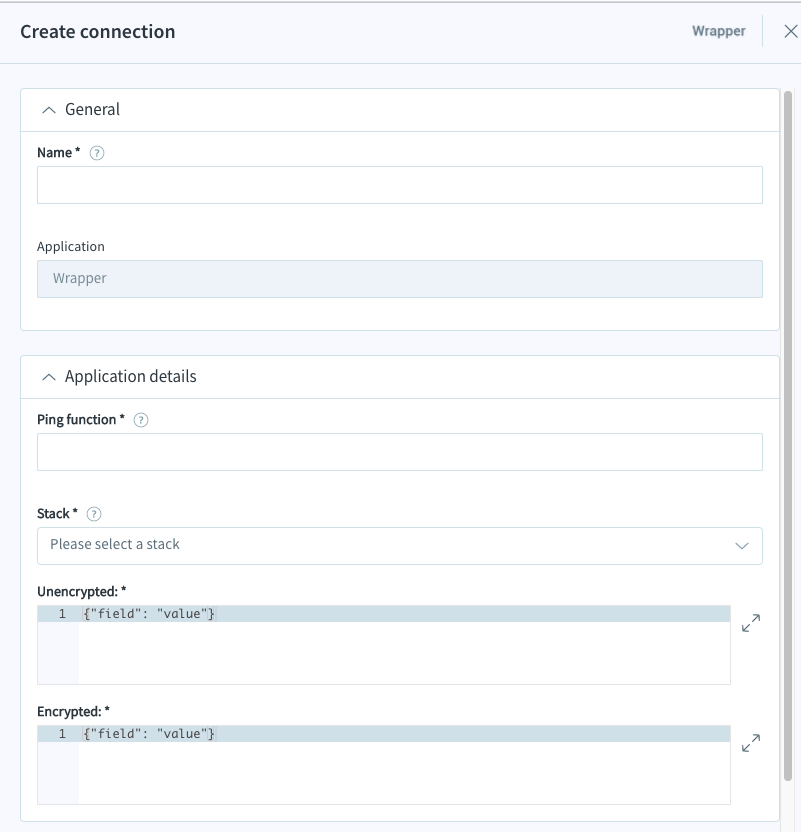 Name: Provide a unique name that you can easily reference from other parts of the application
Ping function: If you're using a ping function in your wrapper code, specify that function name here. This will enable integrator.io to test your connection. It will also ensure that if your connection goes offline due to an intermittent issue, integrator.io will run a batch process every hour (with an exponential decay) to regularly ping your connection and automatically bring them back online if possible. This will enable pending or in progress jobs to resume processing.
Stack: Choose the stack that is hosting your wrapper code.
Unencrypted: Provide any non-sensitive data here.
Encrypted: Provide any sensitive data here.