Upgrade your Integration App
We've upgraded the existing Integration App infrastructure. Be sure that your Integration App is updated to the following infrastructure versions:
Integration App v1.9.1
SuiteApp version 1.9.1
Celigo integrator.io (NetSuite Bundle 20038) 1.17.0.0
Manually install the Salesforce package: Celigo NetSuite Package v1.9.0
The release will be available in phases, starting from April. If you're using a NetSuite sandbox account, upgrade the NetSuite SuiteApp to v1.9.0.
What's new
Introduced "Sync order files to NetSuite sales order" setting in Opportunity
A new check box Sync order files to NetSuite sales order is added to the Settings > Opportunity section > Notes and Files sub-section. When checked this box, it syncs the order files from Salesforce to NetSuite sales order. For more information, refer Understand Opportunity related Settings.
What's enhanced
Support decimal values for quantity field
When you sync a Salesforce opportunity to NetSuite, if the quantity field has decimal values, the flow now doesn't display an error during the sync to NetSuite.
What's fixed
Shipping address fields are not updated when they are set to perform on create
In the Salesforce account to NetSuite customer Add/update flow, add the mapping handleStateCode : false only when you configure a conditional mapping of state fields. For example, in the field mappings, if the state field Advanced setting is selected as Creating a record, with the handleStateCode : false mapping, the flow syncs only the records created and will not consider any updated records.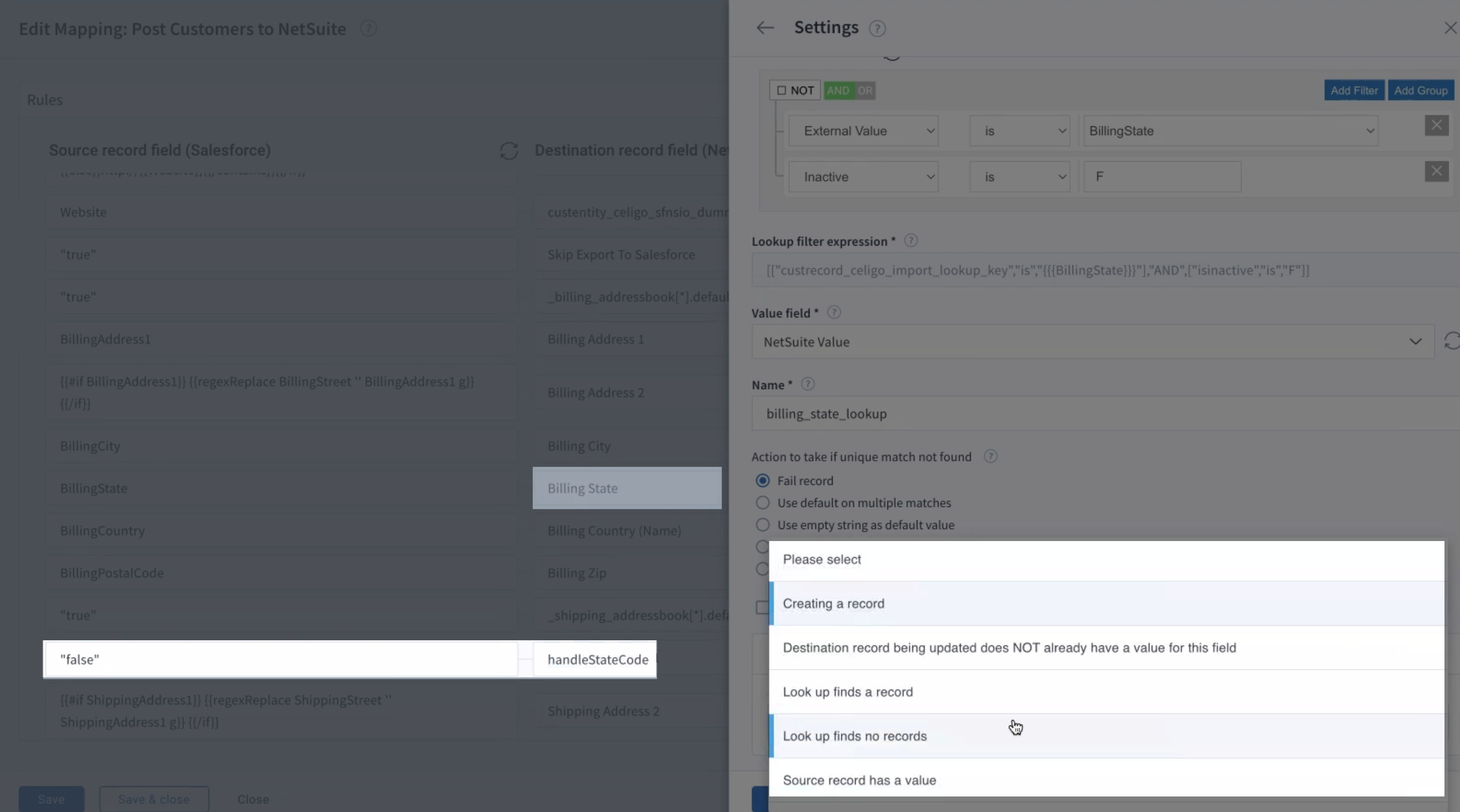 Note: If you want the flow to sync both created and updated information of state fields, do not add the handleStateCode mapping or make any selections in the state fields Advanced section.