Freshservice links: API guide, Authentication
Additional reference: Supported Freshservice APIs
Freshservice is a cloud-based service desk and IT service management (ITSM) solution. It is designed to help IT organizations focus on exceptional service delivery and customer satisfaction.
A. Set up a Freshservice connection
In integrator.io, establish a connection to Freshservice in either of the following ways:
From the Resources menu, select Connections. Then, click + Create connection at the top right.
– or –
While working in a new or existing integration, you can add an application to a flow by clicking Add source or Add destination/lookup.
In the resulting Application list, select Freshservice.
B. Provide Freshservice connection details
On the Create Connection page, set the following options: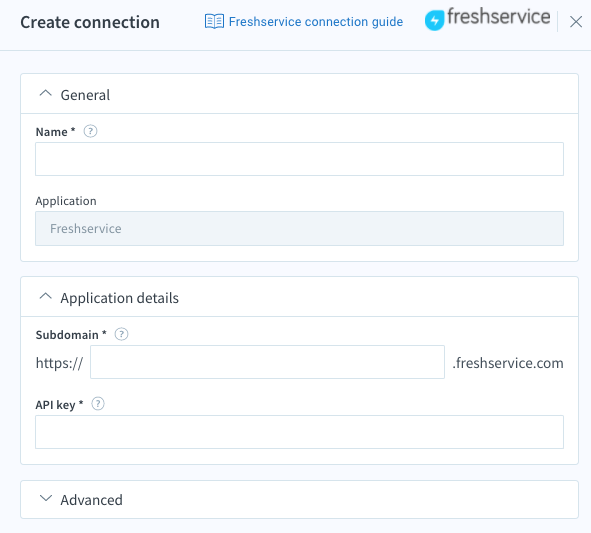 Name (required): Provide a clear and distinguishable name. Throughout integrator.io imports and exports, you will have the option to choose this new connection, and a unique identifier will prove helpful later when selecting among a list of connections that you've created.
Application (required, non-editable): A reminder of the app you're editing.
Subdomain (required): Enter the subdomain. To find your subdomain, sign in to your Freshservice account. You can find the subdomain in the browser URL. For example, for https://test96529.freshservice.com, test96529 is the subdomain.
API key (required): Enter the API key for your organization's Freshservice account. This is necessary to authenticate the connection. Multiple layers of protection, including AES 256 encryption, are in place to keep your API key safe. When editing this connection, you must re-enter this value each time; it is stored only when the connection is saved and never displayed as text.
Sign in to your Freshservice Support portal.
Click on your profile picture at the top right corner of your portal.
Go to the Profile settings page.
Locate your API key below the change password section on the right.
C. Edit advanced Freshservice settings (optional)
D. Test the connection
Click Test connection to check whether your connection is successful. A message appears to confirm a successful connection.
If you receive an error message, try re-entering your username and password.
Once the configuration is complete, click Save & close.