Microsoft SQL links: API guide, Authentication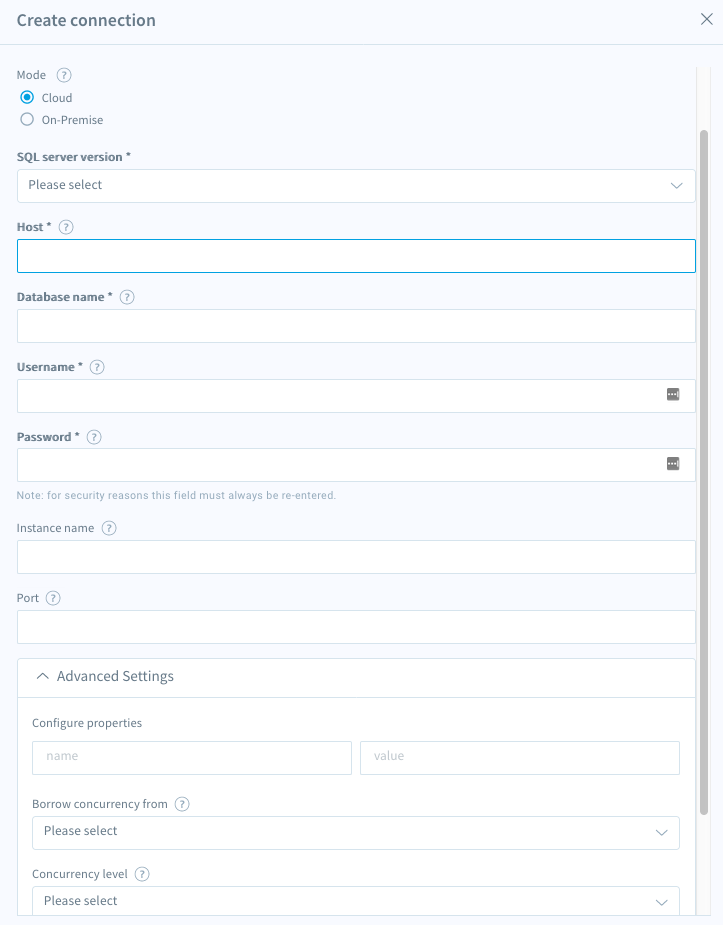 Name (required): How you want to refer to this connection in integrator.io.
Connection type (required): Select Microsoft SQL or accept the default value if you're editing a Microsoft SQL connection.
Mode (required): Select one of the following options:

Cloud to connect to a publicly accessible server application
On-premise to connect to a server that is publicly inaccessible and has integrator.io agent installed on it, such as a production MS SQL Server environment

Agent (required, if On-premise selected for 3. Mode; otherwise disabled): Select an agent from the list. To connect to an on-premise application, integrator.io requires that an agent be installed on a networked computer. An agent is a small application that allows you to connect to data behind your firewall. When installing an agent, you will specify a unique access token, which then populates the Agent drop-down list. The installed agents connect to integrator.io and establish a reverse SSH tunnel, allowing secure communication without the need to whitelist integrator.io's IP addresses in your firewall settings. A single agent can be used by multiple different connections.
SQL server connection (required): Select one of the following server connections:

SQL Server 2008 R2
SQL Server 2012
SQL Server 2014
SQL Server 2016
SQL Server 2017
Azure

Host (required): Enter the hostname or IP address of the server to connect to. These values were created during SQL Server setup.
Database name (required): Provide the database name created during SQL Server setup.
Username (required): Enter the username created by the SQL Server administrator for this account.
Password (required): Enter the password created by the SQL Server administrator for this account.
Instance name (or Port required): Specify the instance name to connect to, assuming that the SQL Server Browser service is running on the database server and UDP port 1434 is reachable. If you set the instance name, you cannot also set the Port, below; they are mutually exclusive connection options.
Port (or Instance name required): Enter the TCP port for the database engine, which is 1433 by default in SQL Server. Port 1433 is also the official Internet Assigned Number Authority (IANA) socket number for SQL Server, and SQL Server Management Studio (SSMS) uses it to manage SQL Server instances across the network.
Configure properties (optional): Click this button to provide additional name-value pairs to be sent to SQL Server with the connection. Click the Save & close button to return to the Connection screen.

Borrow concurrency from (optional): Select another connection from the list....
Concurrency level (optional): Up to 25 allowed....