If your Integration App subscription is up for renewal, a notification message is displayed in the integration tile to notify you about your subscription end date. If you've not renewed your Integration App subscription and it expires, your Integration App license will be temporarily suspended till the subscription is renewed. Once the subscription expires, all integration flows within the integration tile are automatically disabled. The license suspension is applicable for each of the Integration Apps in the production and sandbox environments.
To renew your subscription, contact your account executive or Celigo Support.
Once your Integration App license is suspended, you'll be able to perform either of the options available on the tile: Renew or Uninstall.
Note: Only an admin can view the Renew and Uninstall buttons on the Integration App tile.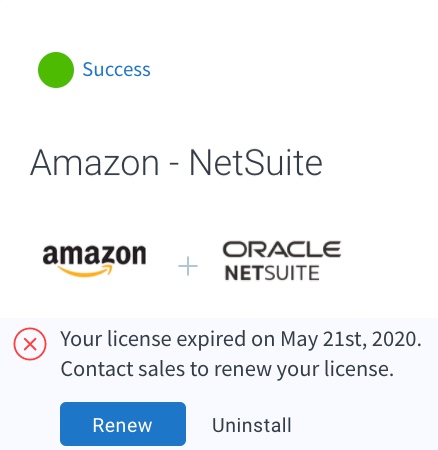 Renew your Integration App
Log in to your integrator.io account

On the Integration App tile which license is suspended, click

Renew

.
Uninstall your Integration App
To uninstall your Integration App, see Uninstall an Integration App account, store, bank, or tile.