As an account owner or administrator, you can require SSO verification for users.
Sign in to integrator.io using account owner or administrator credentials.
Click the avatar icon in the upper right corner of the screen. If you are an account owner, click My account; or, if you are an administrator, click My profile.
On the page that opens, click the Users tab.

The list of users and their details is displayed.
Based on whether you want to require SSO log-in for an existing user or a new user, follow these steps:

Existing user

In the Users list, select an existing user.
Turn on the Require account SSO? toggle to enable the option.

New user
Click + Invite user.

In the Invite user window, enter Email.
Select Access level. Before you select, see access level and permissions.
Select the Require account Single sign-on (SSO)? check box. Note that when you are inviting a user to an SSO-enabled account, by default, this check box is selected.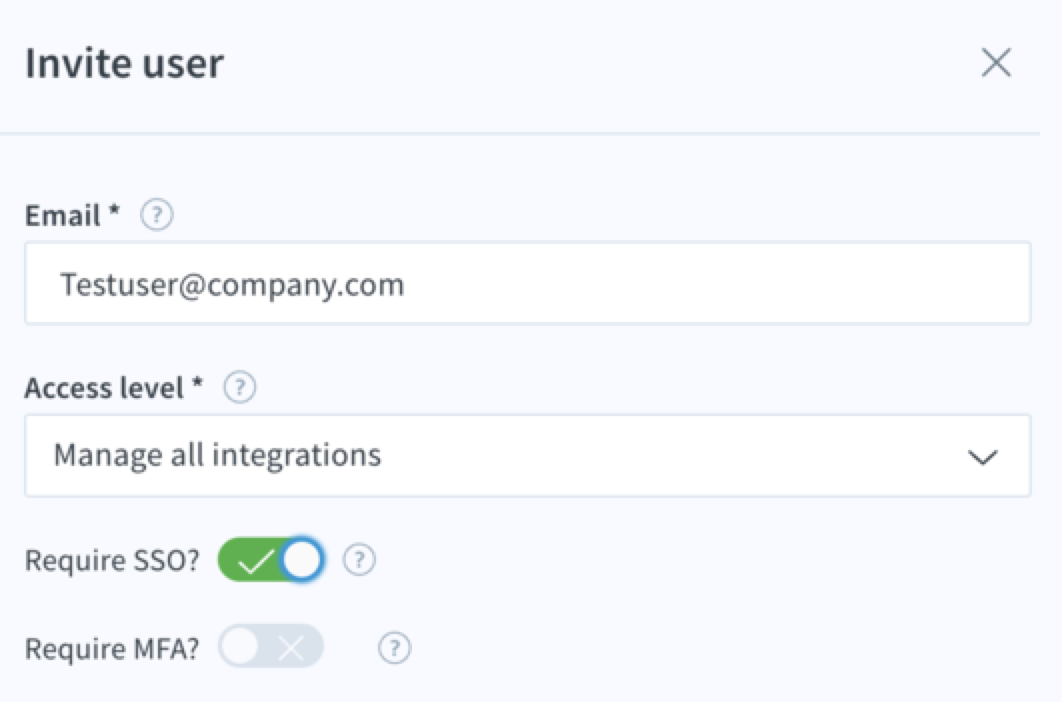 Click Save. The user is added to the Users list and Require account SSO?is enabled as shown.

Now the user who has been invited to the account must use the account SSO credentials. Note that at any time, you can disable the access of a user to the account.
The following SSO field gets updated in the dashboard based on the action of the account user.
| Column (read-only) | What it means… |
| --- | --- |
| Account SSO Linked? | This column indicates whether the user has successfully signed in to integrator.io using the account SSO. If the user has successfully signed in using the account's SSO settings, then the field displays yes. Otherwise, the field displays no. |