This document is intended for customers who have Legacy Celigo Integrations in NetSuite and need to view their Integration dashboard information in integrator.io.
This document assumes that you have a NetSuite Administrator role. For non-administrator roles in NetSuite, you may need to add permissions to their role for this to be successful. Please refer to the Celigo Customer Compass article here.
This document also assumes that you already have an integrator.io account. If you do not already have an account, please create a free account at https://integrator.io/ . Please refer to this article to assist you in creating your account. Free accounts have access to a 30 day trial for the full functionality of the integrator.io platform. For the purposes of this document, you will not need to activate the trial features, and can continue to monitor your Legacy Integrations indefinitely.
From the Tools & Resources menu, select Connections. You'll see a list of any available connections.
Click the Create connection link.
Fill out the connection options. Field-level help is available by clicking the (?) icon next to the field.
Name - The name of the connection. It can be set to anything, but it is recommended to name it so you know what it is, e.g. "NetSuite - Production" or "NetSuite - Sandbox"

Connection Type - This should be set to NetSuite. Selecting this will then expand another option.

Authentication Type - For the purposes of this document, we will be using "Basic". If you need to use Token Based Authentication, refer to the Customer Compass article

here.

Account ID - This is your NetSuite account ID, which is unique to your company's NetSuite instance. One way to obtain this value within NetSuite is via Setup > Integration > Web Services Preferences. If this does not work, then please contact NetSuite support.

Role ID - This is the NetSuite Internal ID of the Role associated with the User you're setting up. The NetSuite Internal ID of the Administrator role is 3.

Email - The email address you use to login to NetSuite.

Password - The password to your NetSuite account.
Once the fields are filled, click the "Test" button. This will ensure that the information you've entered is correct. If the test was unsuccessful, make the necessary changes to the field and test again. Upon a successful test, click the "Save" button.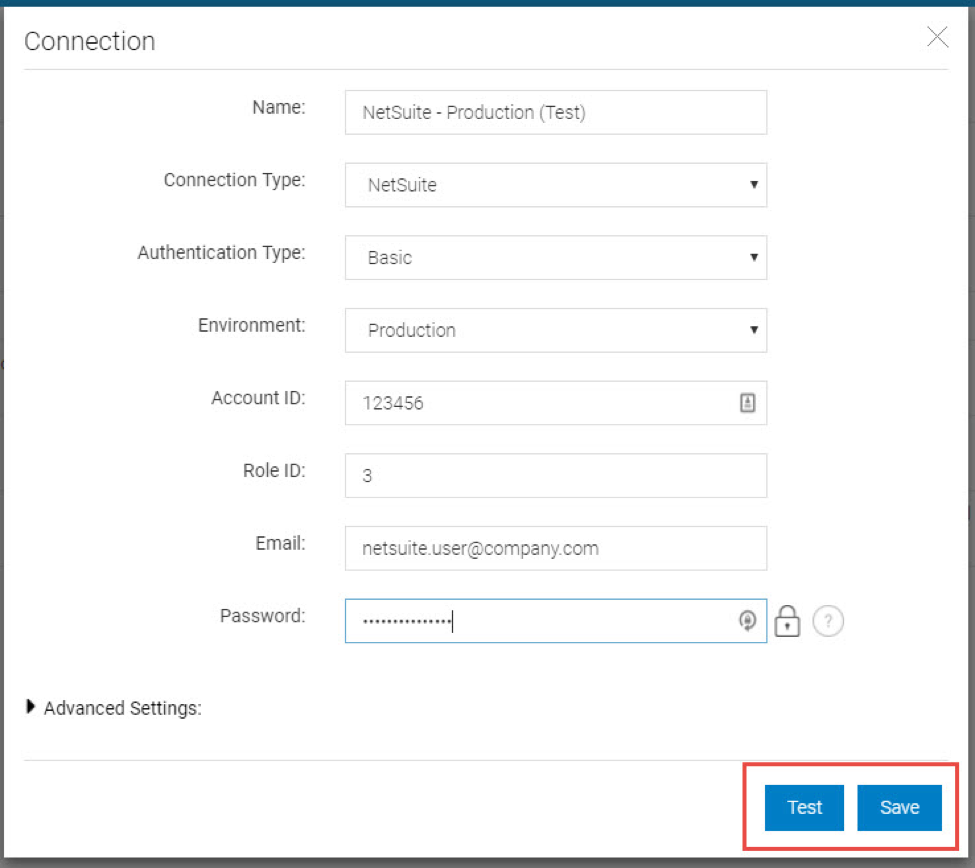 You will now see your new connection listed on the connection screen. Click the "Pencil" icon to the right of the connection to edit the settings once more.
Here, a new option will be available to "Link SuiteScript Integrator." Check this box. For security purposes, re-enter your NetSuite password before saving the connection once more.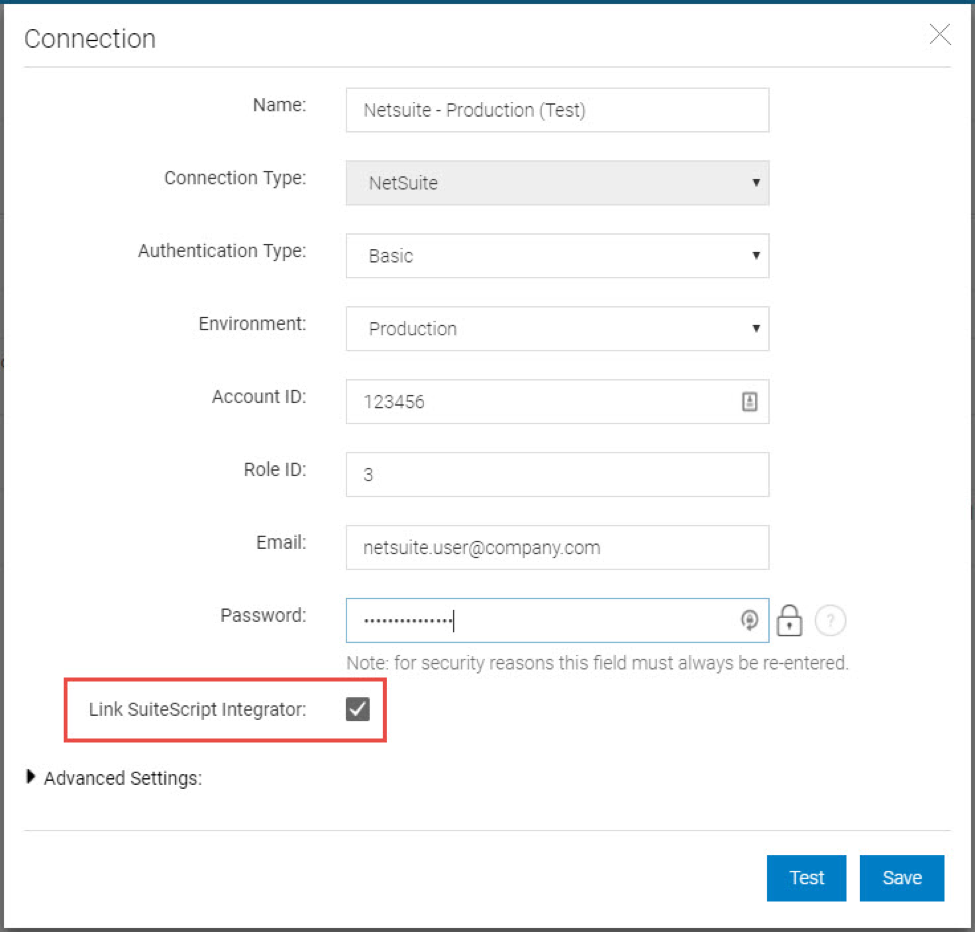 You have now linked your legacy NetSuite integrations to your integrator.io account. Click the Home button in the main navigation to go to the integrator.io home page where your Integration tiles should now be visible.