The Magento 2 – NetSuite Integration App helps retailers combine the powerful Magento 2 eCommerce platform with the proven back-office features of NetSuite. As a retailer, you can focus on increasing sales without needing to manually sync your Magento 2 store and NetSuite account.
Prebuilt Functionality
Magento 2 - NetSuite Connector comes with prebuilt data flows that synchronize your Customers, Sales Orders, Inventory levels and Fulfillments between NetSuite & Magento 2, eliminating the overhead associated with dual-entry and maintenance between multiple systems.
Data Flows
The connector consists of following prebuilt functionality:
Import Customers from Magento 2 to NetSuite
Import Sales Orders from Magento 2 to NetSuite
Export Fulfillments from NetSuite to Magento 2
Export Inventory Levels from NetSuite to Magento 2
Export Billing Information from NetSuite to Magento 2
Export Products, Variations from NetSuite to Magento 2
Export Order Cancellations from NetSuite to Magento 2
Export Refunds from NetSuite to Magento 2
Connect multiple Magento 2 websites/stores/store views to a single NetSuite account
Workflow Diagram
Following is a workflow diagram that explains the flow of information between Magento 2 and Netsuite: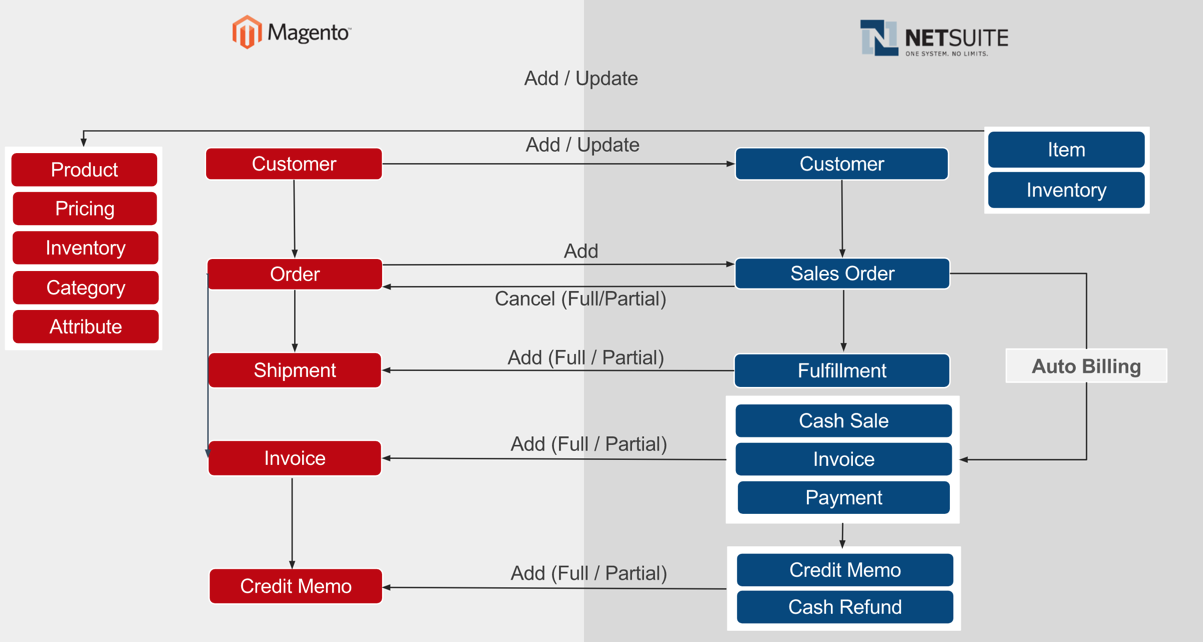 Related topics
Take the following classes to learn more about this topic:
Read more about this Integration App: