To create integrations, you have to grant integrator.io access to your account. The connection gives us access to the info that you want to sync in Amazon S3.
Go to integrator.io.
At the top, click Tools & Resources > Flow Builder. This opens the Flow Builder.
Click into:

Source application: If Amazon S3 is the app you want to export data from.
Destination application: If Amazon S3 is the app you want to import data into.

Type to search (or scroll down to choose) Amazon S3.
Select the other app you want to build you integration with.
At the top right, click Save and continue. The connections page opens.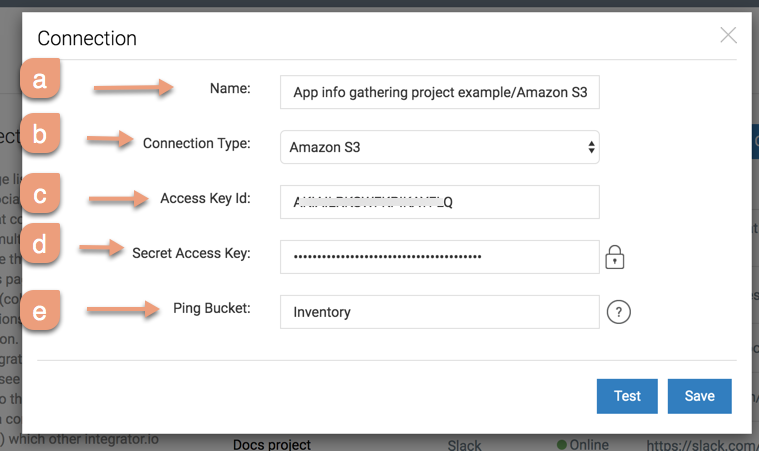 Name: Give your connection a name. This field is required.

Tip: Make your connection name something that you and people working on your integrations will recognize in a list of connections.

Connection type: The form will automatically select Amazon S3.
Access key ID: Required: Enter your access key ID. Use the following steps to get your access key ID and secret access key:

Use your AWS account ID or account alias, your IAM user name, and your password to sign in to the IAM console.

Note: For your convenience, the AWS sign-in page uses a browser cookie to remember your IAM user name and account information. If you previously signed in as a different user, chooseSign in to a different account near the bottom of the page to return to the main sign-in page. From there, you can type your AWS account ID or account alias to be redirected to the IAM user sign-in page for your account.

In the navigation bar on the upper right, choose your user name, and then choose My Security Credentials.

On the AWS IAM Credentials tab, in the Access keys for CLI, SDK, and API access section, choose Create access key.
Then choose Download .csv file to save the access key ID and secret access key to a .csv file on your computer. Store the file in a secure location. You will not have access to the secret access key again after this dialog box closes.
After you have downloaded the .csv file, choose Close. When you create an access key, the key pair is active by default, and you can use the pair right away.

Secret access key: Required:Enter your secret access key.
Ping bucket: Optional:Enter the name of your ping bucket.

Note: To find out if you have access to buckets, and what those buckets are, ask your organization or contact Amazon.

After all of your info is filled in, you can test the connection before you save. At the bottom right, click Test. Note: If your connection was successful, you will get a success message on your screen. If it failed, you will get a message that says we could not make the connection.
When you're ready to finish building your flow, click Save.