Amazon Marketplace Web Service (MWS) links: API guide, Authentication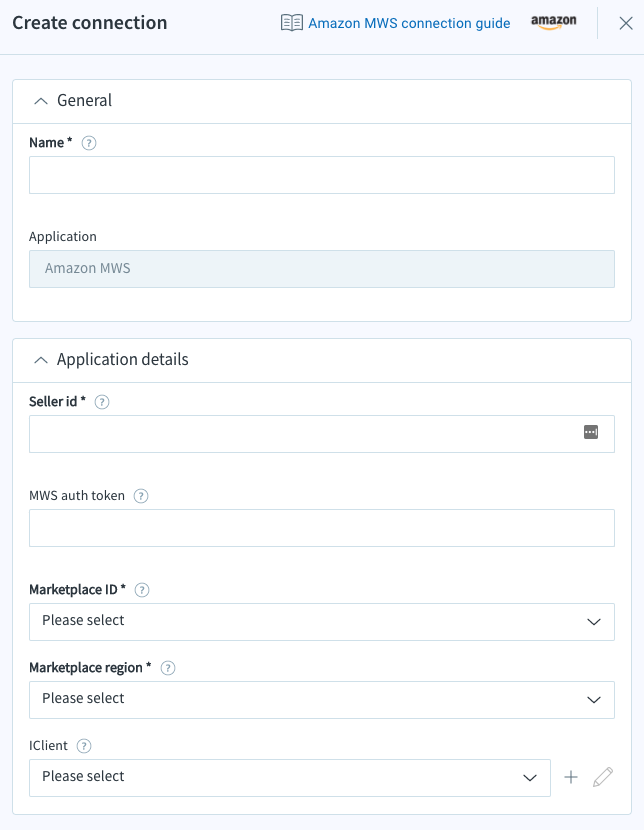 Name (required): Provide a clear and distinguishable Name for the connection. Throughout integrator.io imports and exports, you will have the option to choose this new connection, and a unique identifier will prove helpful later when selecting among a list of connections that you've created.
Seller ID (required): Provide the account ID for the Amazon seller account you are integrating with. You can log in to Amazon Seller Central and locate your seller ID under "Settings." (You do not need to include your seller ID in the relative URI; Celigo integrator.io will automatically add it to all request parameters.)
MWS auth token (required): Provide the "merchant token" for this account. It is also found at Amazon Seller Central under "Settings / Account Info."
Marketplace ID (required): Select the "MarketplaceId" for this connection, sorted by country code. If you are not already registered to sell in the marketplace selected, your Amazon MWS calls will fail.
Marketplace region (required): Select the region for this connection. If you are not already registered to sell in the region selected, your Amazon MWS calls will fail.
IClient (optional): If left blank, you are indicating that integrator.io has your permission to access your Amazon account via Celigo's developer keys. To enable integrator.io access to your account through Amazon Seller Central, see Developer access.
Otherwise, if you want to connect with your own developer keys, select an iClient from the list.
To add an iClient and configure your developer and secret keys for your marketplace region, click the plus (+) button. Click the edit ( ) button to modify a selected iClient.
Be sure to give the iClient a recognizable name for use in any other connections.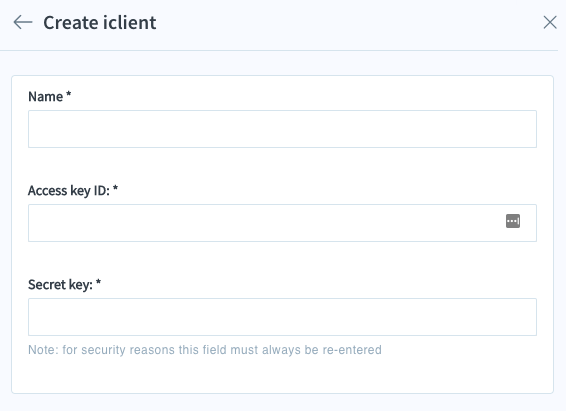 Disable strict SSL (optional): Check this box to skip verification of the SSL certificate, allowing self-signed or expired certs. For security reasons, it is highly recommended that you leave this box unchecked for any production data connections.
Test (optional): click to try connecting to Amazon MWS before saving your changes.
Click the Save button to test and commit the new connection so that it will be available to all integrations for your account (and applied to the current source or destination app, if you created it within a flow).
Any new or edited iClient is already saved as soon as you click the Save button in the IClient dialog, even before you save the connection.
Advanced
Read more about this connector: