Description:
For the Shopify Order Import and Item Mass Update flows, the Integration App looks for the SKU of an item in NetSuite by searching for the SKU in the ItemID field. The following error may occur when more than one match is found: "A mapping error occurred. More than one match for "[["itemid","is","OZ-SE-VCA-1037"],"AND",["isinactive","is","F"]]" for the record type "item"."
This is a NetSuite issue where the ItemID and Vendor code match and the search returns all the items. In this example, NetSuite returns two results.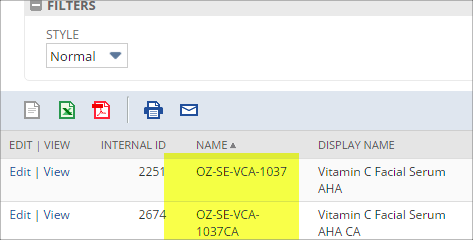 Resolution:
To resolve this issue, use the Name (Internal) in the mapping for the SKU.
Go to Flows > Order.
Click the Field Mappings icon in line with Shopify Order to NetSuite Order Add.
Select the gear-like icon for field settings and do the following:
Click Save.