You can set up an HTTP connection to an open-source application that requires no authentication. Before creating the connection, review your app's API guide. It will provide the information you need, such as its URI and endpoints. Every app puts its documentation – guides and reference material – in different places. You can often find it by searching for "API guide" or "API documentation" on the company's website.
Contents
A. Set up an HTTP endpoint connection
Start establishing a connection in either of the following ways:
From the Resources menu, select Connections. Then, click + Create connection at the top right.
– or –
While working in a new or existing integration, you can add an application to a flow by clicking Add source or Add destination/lookup.
B. Enter your HTTP endpoint details
At this point, you're presented with a series of options for providing HTTP endpoint authentication.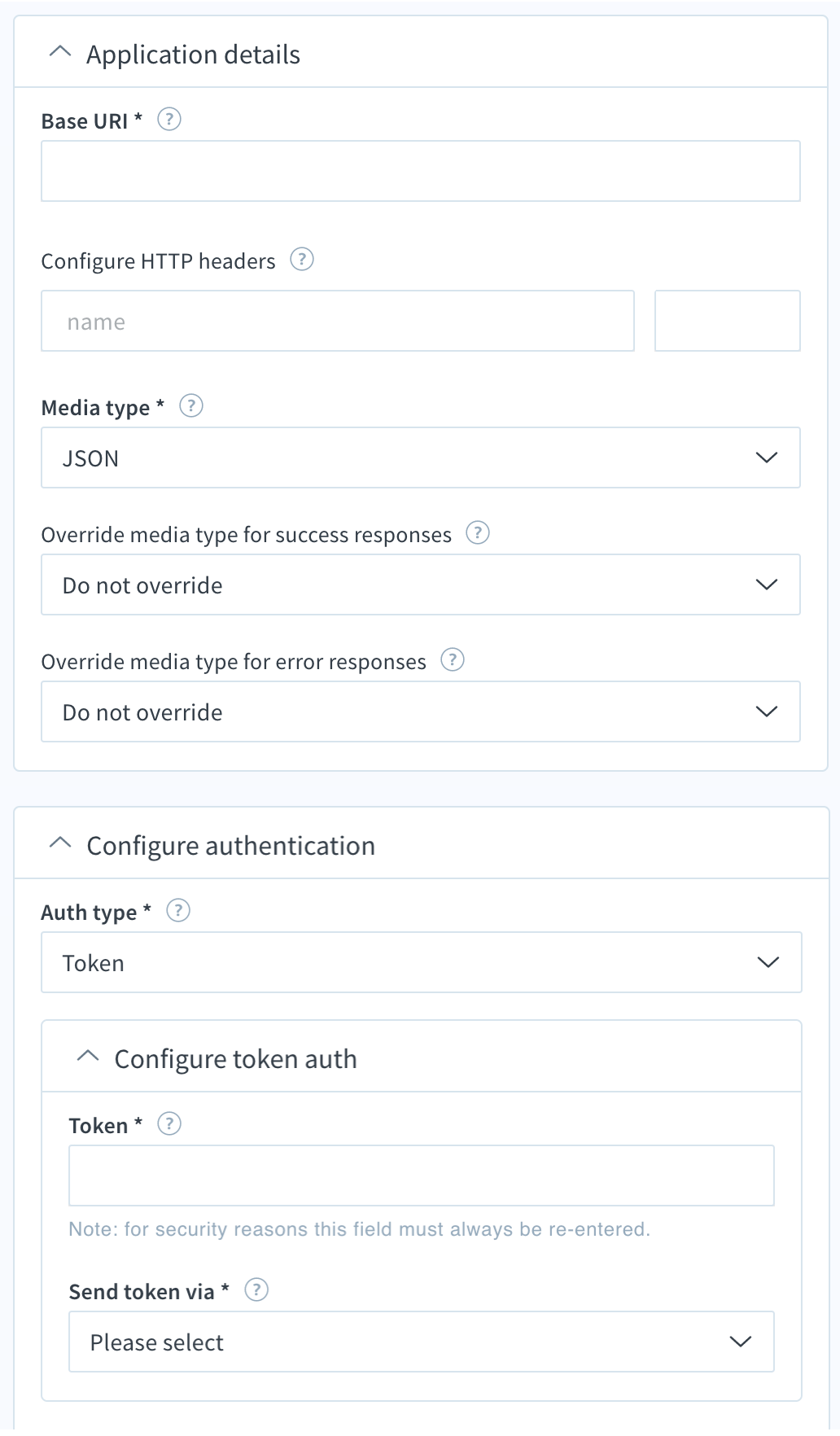 Name (required): Provide a clear and distinguishable name. Throughout integrator.io imports and exports, you will have the option to choose this new connection, and a unique identifier will prove helpful later when selecting among a list of connections that you've created.
Application (required, non-editable): A reminder of the app you're editing.
Mode (required): Select one of the following options
Cloud to connect to a publicly accessible server application.
On-premise to connect to a server that is publicly inaccessible and has an integrator.io agent installed on it.
Continuing in the Create connection panel, select Token for the Auth type. The settings then become specific to token auth:
Token (required): Enter a dummy value (example: 'apple', 'banana' etc...) where your token is expected.
Send token via (required):
HTTP header: Allows you to specify the header name and authentication scheme to use when constructing the HTTP request.
Header name (required, enabled when Send token via is set to HTTP header): Enter Authorization, Ignore, or some other fake header value.
C. Save, test, and authorize
Once you have configured the HTTP connection, you have a few options for continuing:
Save – click this button to test the connection, commit the new connection so that it will be available to all integrations for your account
Save & close – click to test and save the connection and exit the Create connection pane
Close – click to exit without saving any new changes
Test connection – click this button to verify that your new connection is free of errors
When you test or save the connection, it is verified before continuing. If the connection fails, double-check the provided settings and test again.